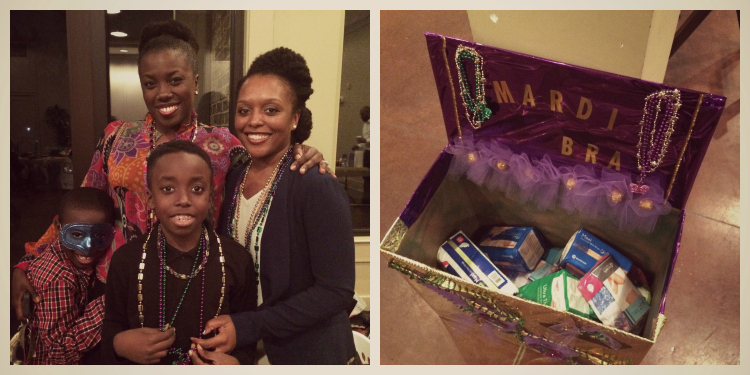 A few years ago Leticia (pictured above, far right) made a decision: She didn't want her birthday to be all about her.
See, Leticia has always had a passion for women's empowerment and she wanted to mix that passion with her birthday to celebrate and help others. And that's what she has done. For the past 3 years Leticia has invested in the women at Pathways for her birthday.
This year, she had a Mardi Bra Party and asked her guests to bring feminine products and undergarments for the women at Pathways in lieu of birthday presents. Leticia also shared with her friends and family why she has chosen to support Pathways and challenge them to give back as well. And then, the next evening she came with friends and family to serve dinner, hang out and have fun with our Parson's Place and Safe Haven Guests.
You too, can be an advocate for homeless women and children, because making an impact doesn't have to be difficult.
1. Share about Pathways with your friends and family. Whether you live here in Birmingham or on the other side of the country, you can share about the impact that's being made. Here's a phenomenal story of one of our guests, and it's easy to share on social media.
2. Gather needed items for Pathways. Whether you're having a special event like Leticia, or you want to set up a drive at work or church, you can ask friends, coworkers and family to donate needed items to Pathways. Here's a link to our wish list.
3. Donate your birthday. Do you have a birthday, anniversary, or special day coming up? You can ask friends and family to donate on your behalf. It's easy. Text PATHWAYS to 71777 if you have 5 minutes to set up a personal fundraising page that's easy to share with friends and family via social media, text and email. Click the link sent to you via text and click "become a fundraiser".
Email Liz at liz@pathwayshome.org if you want to become and advocate for the women and children we serve.