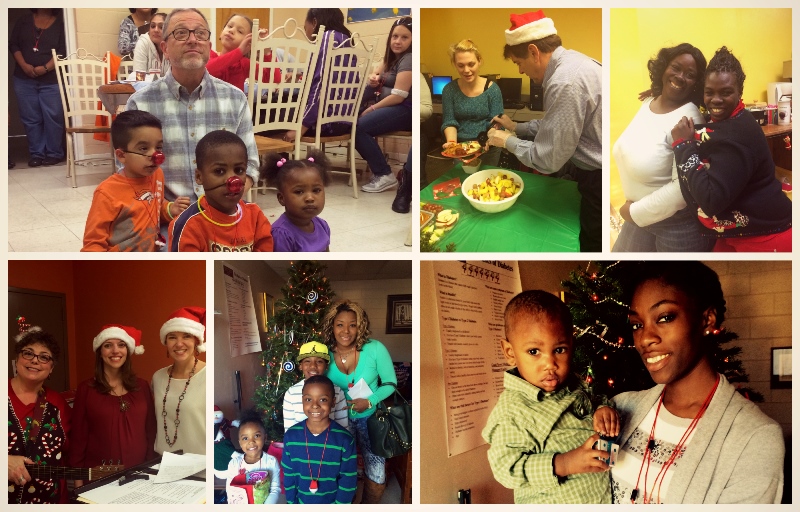 For many of us, the holidays are a time of reminiscing, spending time with friends and family, and making wonderful memories. For others, though, it is a time of constant reminders of loneliness, instability in life, and lack of resources. So, during the holidays, our goal is to provide our women and children with the gifts of hospitality and hope.
Through the planning, organizing and generosity of some spectacular groups….Regions, Spruce Fellowship and Edward's Lake Church of Christ… they were able to provide fantastic Christmas parties for all of our programs! Our guests enjoyed delicious food, sang along to some classic Christmas carols, read How The Grinch Stole Christmas, were surprised by stockings and most importantly felt loved by the volunteers.
In addition to the Christmas parties, each year we pair generous individuals, families, businesses and churches with each of the individual women and families in our housing programs through our Holiday Hospitality program. This year, we had our guests ask for items they needed, items they wanted, and items that would further their education or self-development goals. Our supporters then fearlessly took the wish lists created by our guests and shopped away! Thanks to their desire to bless our guests, our women and children will have gifts to open Christmas morning.
We have been blown away by the generosity of supporters this Holiday season. Many thanks to all who shared the gift of hospitality this year through Christmas Parties, Holiday Hospitality, in-kind donation drives and volunteering! We are looking forward to partnering with you all to continue providing housing, hospitality and hope to homeless women and children in our community in 2015.