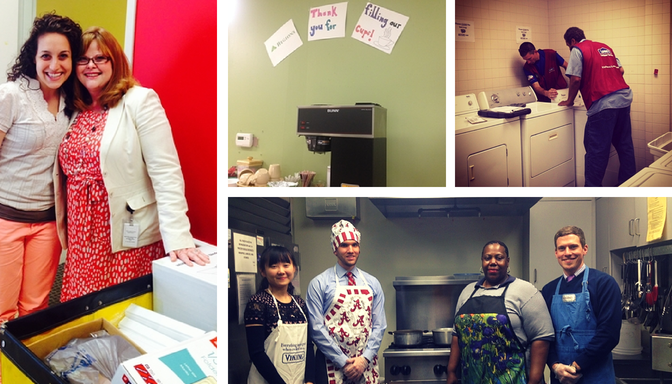 It all started in December of 2012 when 5 volunteers from the Treasury Department at Regions came to serve lunch in the Day Center. Soon after that, they began sending volunteers on a weekly basis. However, they didn't stop there! In November they came together and bought a coffee maker for our Day Center. In March, they pulled together donations to buy a brand new stove and members from the 18th floor started volunteering for lunch. Then in June the, two departments started a competition to see which department could gather the most items for Pathways.
Such items came off of Pathways' Wish List on the website and included clothing, office supplies and paper products. Out of that competition, two generous individuals purchased a new washer and dryer for the Day Center. After the competition concluded, Julie (pictured in the red dress above) proposed the idea of a Day Center face lift by bringing in some employees to paint and complete some maintenance work. Serving 1,400 women and children throughout the year, the Day Center gets lots of use and is need of some TLC. Plans will be made soon to carry out this project.
The crazy thing is, these two departments are not the only two groups at Regions who support Pathways. Other individual employees help with our Learning to Be A Kid Program, the Branch Support Services and Delivery department helps with Christmas parties and various service projects at both our downtown and Southside location and the Regions Foundation financially supports Pathways as well. It has become clear that the employees at Regions go above and beyond when they see a need in our community. Thank you for your service and support of the homeless women and children in the Birmingham area.