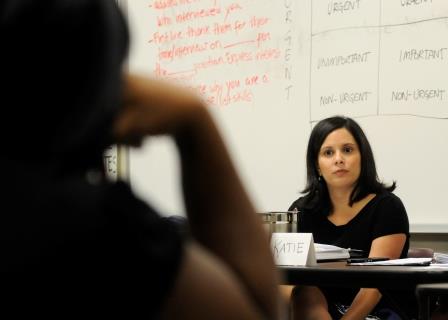 Pathways' Education Program is in full swing as summer quickly approaches. Every month, volunteers from the Junior League of Birmingham spend a week or two teaching guests our Employment Readiness and Fiscally Fit courses. Most weekdays at 10:00am, Pathways' guests can expect a life skills class of some sort. Our classes are taught by volunteers from the community and are designed primarily by the individual volunteers, with assistance from the Education Coordinator, if needed. Most classes are scheduled once per month, to allow for variability.
Life skills classes encourage guests to focus on the stepping stones that will one day lead them out of homelessness. Classes offer a time for groups of women to share their stories with one another, reflect, and learn how to move forward.
Currently, Pathways offers 15-20 life skills classes each month to our Day Center population. Current life skills classes include:
• Resume writing
• Financial literacy
• Art
• Computer literacy
• Effective communication
• Bible study
• Addiction awareness/management
• Yoga
Pathways is always actively recruiting volunteers to teach life skills classes. Have a passion for nutrition on a budget? Enjoy sketching as a release from the everyday? Utilize anger management techniques that you'd be willing to share? Our guests can benefit from your knowledge!
Pathways also offers evening and weekend classes. For more information and to volunteer, contact our Volunteer Coordinator, Liz Hixson at (205) 322-6854 or liz.hixson@pathwayshome.org.