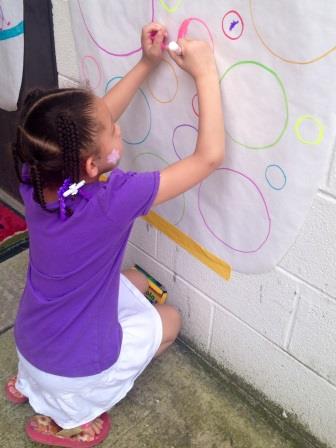 Pathways is preparing for an AWESOME summer with the addition of its Pathways Day Camp for Kids! Can any of you remember how your summers as a child were spent? Some may have had the pleasure of taking family trips to amusement parks, vacationing at the beach, participating in sports camps, or visiting relatives in other states. Unfortunately, for a family currently experiencing homelessness it is often times difficult to imagine opportunities like these. But have no fear – here at Pathways we pride ourselves on our commitment to providing a stable and supportive learning environment for the women and children we serve.
For eight weeks (June 16-August 7) children ages 4-17 residing in area homeless shelters will be able to participate in fun-filled activities Monday-Saturday from 9am-2pm at our Downtown location. Activities will include a range of life skill classes, arts and crafts, music, fitness, and so much more! And most importantly, it is absolutely FREE! Lunch will be served daily; however, transportation is not provided by Pathways.
We are so excited to be able to offer this summer program to well deserving children whose families may not be able to afford the steep cost of other camps in the area.
Pathways appreciates all of the volunteers who spend countless hours helping to aid in our mission. If you are interested in volunteering with Pathways Day Camp for Kids, please contact Liz Hixson at 205.322.6854 or by email liz.hixson@pathwayshome.org.