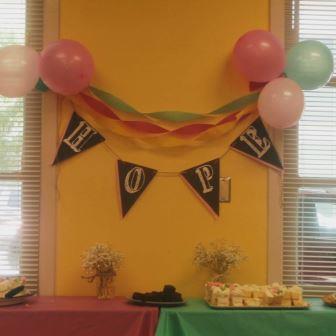 Pathways offers a wide variety of services to women and children facing homelessness, and this is only possible because of the many, many supporters we have. As a humble thank you to our donors and volunteers, we threw a party!
O'henry's generously provided the coffee, staff and board members helped with the desserts and the guests helped decorate. It truly was a team effort!
Many people were able to drop by during their lunch break to get a cup of coffee, yummy desserts, take a tour of our facility and meet guests and staff members. The staff had a great time connecting and catching up with some of our volunteer life skill teachers, staff from partner agencies, members of partner churches and various other individuals. Here are some pictures of the fun we had!
If you weren't able to make it to our Open House, but would like to stop by for a tour sometime contact Liz Hixson, Volunteer Coordinator and Development Associate at liz@pathwayshome.org or 205-322-6854.