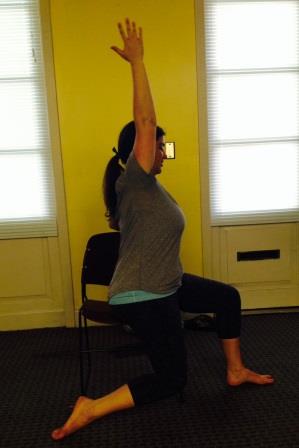 At the core of the life skills classes at Pathways are health and wellness classes. From little league team sports to hot yoga to senior aqua aerobics, exercise has a way of creeping into and out of our lives. Doctors recommend 30 minutes of exercise per day for the average individual. For a person experiencing homelessness though, this recommendation might fall low on the priority list. With the help of several community partners, Pathways is able to provide varying health and wellness classes for our guests.
Yoga - Annie Damsky (pictured above teaching a Day Center class) has been volunteering at Pathways for 18 months. She is the owner of Villager Yoga in Mountain Brook and is the president of Sweet Om Alabama (a non-profit company that aims to bring the benefits of yoga to those who lack access). Annie has modified her traditional floor yoga routine so that it can be completed by our day center guests while seated in a chair. This allows our guests with mobility restrictions the opportunity to participate. In addition, Annie also offers a mother and child yoga class at our Southside location.
Zumba- LaTressa Dillard has been volunteering at Pathways for five months. She offers a high-energy Zumba class to the mothers and children at our Southside location.
Nutrition - Sandhya Kumar, in conjunction with Equal Access Birmingham, has offered nutrition classes to guests within all of Pathways' programs for over a year. Sandhya teaches dietary nutrition as well as health topics, such as how to avoid or control high blood pressure, diabetes, and other ailments to which the homeless population are particularly sensitive.
Pathways is grateful for these volunteers and the many others who give their time and expertise to contribute to the lives of women and children who are experiencing homelessness in our city.
If you are interested in leading a health and wellness class at Pathways, please contact Liz Hixson at (205) 322-6854 or liz.hixson@pathwayshome.org.