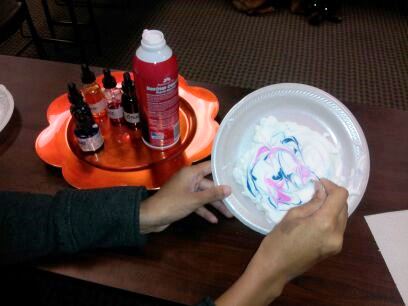 Sometimes, the best way to clear the mind is to busy the hands. At Pathways, the second Tuesday of each month is a special day. Karen, a licensed Marriage and Family Therapist and Registered Art Therapist from Oasis Counseling, visits each month to teach an Art Therapy class, always bringing with her brightly colored paints, beads and other art supplies. When she arrives, Pathways' guests file into the classroom, excited to know the type of project that they will be offered. Past projects have included jewelry making, photo frame painting and family tree collages. During the course of the class, our guests are sometimes challenged by a skill they may not be comfortable with (braiding yarn to create bracelets for example), but Karen gently encourages them to continue trying, all the while asking thought-provoking questions such as "How does this make you feel?" and "Can you relate this challenge to another challenge you've faced?"
As the hands busy and the mind focuses on producing a beautiful project, the shadows lift from their eyes and their shoulders droop a little less. Even if for a moment, struggles, negativity and hopelessness fall away.



Pathways' mission statement is simple, but impactful: To end homelessness through hospitality, housing and hope. One way that we offer hope is through our extensive education program. Life-skills classes (with subjects ranging from relationship building to fiscal management) are facilitated primarily by volunteers throughout our community. If you are interested in offering hope by leading a life-skills class at Pathways, please contact Liz Hixson at (205) 322-6854 or liz.hixson@pathwayshome.org.