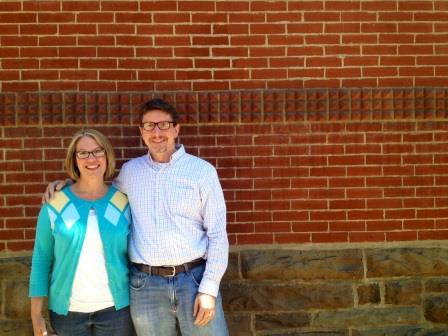 Jeff serves as pastor of The Church at Birmingham. They and their church members are well known among the homeless community. They not only teach a Bible Study in our Day Center and an Arts and Crafts class with our children, they also teach a weekly Bible Study at First Light, serve meals at The Firehouse Shelter and invest in the lives of the homeless individuals who attend their church on Sunday mornings.


Relationships start, it seems to us, with recognizing as Jean Vanier (founder of L'Arche Communities) has put it, that "between all of us fragile human beings stand walls built on loneliness and fear and suffering." By recognizing we ourselves are flawed, finite, lonely and often selfish, we can approach others with deep humility, gentleness and love. This is where we start in building relationships with others.
We have sought to love our community – albeit imperfectly – simply for the sake of love, without ulterior motives other than the love of Christ. There are many conflicting reasons one might seek to help another. It usually makes us feel good. But, at its core that can be selfish. There is a temptation to get someone "churched" or in their church. That too fails to love simply for the sake of love. Genuine love seeks to bless someone because you value that person.
This speaks to several secondary (to love) but invaluable qualities to seek. One is humility. Melanie has emphasized we should not seek to help someone or become a part of their life through an "us/them" lens of, "we're good, they're bad" or "we have our life together, you don't." In many ways we don't have our life together in the way we think. We are all "cracked icons" (as author Scot McKnight puts it). The moment we see ourselves as "above" and reaching "down" in some way – we have lost what we see as a key to our lives – Jesus, who did not reach down, but entered our world as an equal or less than equal member. And in some ways, those who are hurting in an overt way ('homeless') have an advantage in that their troubles are often quite evident, whereas we may not readily see our own. But, humility not only elevates one above another, it also sees the other person as holding out value in their ideas, thoughts, and love. This is an important aspect of giving others value – valuing their opinions and actions (a challenge for us all). In fact, Melanie and I have often found many in the homeless community to be more giving, sharing and gracious than we are (sometimes even when they actually have less than the ones they are helping).
Gentleness is also of immense value, yet also difficult - as soon as we lose humility about our selves we are prone to lose gentleness. But, with humility and gentleness we begin to create a place of welcome and friendship. It's not just about giving gifts - many people can do that - but to say to another, "You are a gift." Each person is as valuable as the next - regardless of her or his position or state in life. And treat them with the gentleness and respect we hope to receive from God and from others.
With these qualities of love, humility and gentleness must also come practical action and service. This is fundamental. Just serve. We don't think we are going to solve all problems. We realize many of the shelters in Birmingham have talent, expertise and resources we could not ever hope to supply and we strive to be a support and servant to them (rather than running our own show). We are not psychiatrists, banks, schools, social workers, etc. But we essentially try to be a positive, supportive (physically, spiritually, etc.), caring influence however we can. Being a kind person mainly. Do what you can do even if it is a small thing, without undermining the shelter's work. And realize those we serve can help us - which gives them a sense of value and worth. In serving others we have sought to serve the whole person - to help feed physical needs at various times. To feed physical food as we have opportunity –either through serving a meal at a shelter or feeding visitors after church. For those who move out of the shelter into a more permanent dwelling we try to help with supplying furniture, or other necessities, as we are able within our own limitations. This can never be a 'quid-pro-quo' however. We seek to love and help without seeking any reciprocation in any form. We seek to help with practical counseling to the degree we are able and seek to encourage with friendship and sharing in the Scriptures. We offer the option for others to assemble with us for those that would like a place attend a church service nearby or need a spiritual family. But this is not a prerequisite to our love. Sometimes what we want the most is just a friend and we try to be that with others as we are able.
Love. Humility. Gentleness. Unrequited service. Friendship. These are all at the heart of what we seek to show out of love for our community. The prophet Jeremiah once encouraged those who were being taken to a frightening foreign city, Babylon, to "seek the welfare (shalom) of the city." This is what we have sought to do in serving and building relationships with homeless or downtrodden in our community.