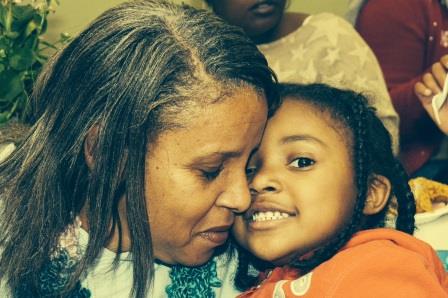 It was December of 2012 and my husband and I were spending our first Christmas together. Throughout the course of the month we discussed traditions we could begin as a new family to carry on through the years and one day pass on to our own children. Having a desire to care for those in need, we decided to do something to feed the homeless. So, the morning of Christmas Eve before we headed out to several different family gatherings, we packed turkey sandwiches, chips, fruit and water bottles in plastic bags and headed to downtown Chattanooga to see if we could find any homeless people out on that cold, dreary morning. We happened upon a couple of lonely men in a downtown park who were very grateful for the food and wished us a Merry Christmas. On our way back home we encountered a woman on the side of the exit ramp. When we stopped to give her what was left of our lunch sacks, she told us that she and her kids had just been evicted and were living in their car. She too was very grateful for the food and immediately took it to her kids who were camping out in their car parked at the church right next to the interstate. Reflecting on our encounters that day, we were extremely appreciative to have a roof over our heads and food to eat, and loved being able to share a little bit of what we did have with those in need.
Fast forward a year and a half and I now work at Pathways, a women and children's homeless shelter in Birmingham, Alabama. Ever since I started working here, I have often thought back to that morning and wondered if we really helped those people with whom we came into contact. While working with the homeless community over the past 6 months, I have realized these individuals need so much more than a meal. By feeding those people in the park and next to the interstate, did we keep them from seeking help at an agency that could provide more than a cold sandwich and some chips?
Dr. Ruby Payne, a leading expert on the mindsets of different economic classes and overcoming poverty, explains that poverty occurs due to a lack of resources: financial, emotional, mental, spiritual, physical, support systems, relationship, and knowledge of hidden rules. All of these areas contribute to poverty, not just a lack of food or money. When people address only these two surface issues, is it possible that we are actually hurting the very people we so desperately desire to help?
A simple google search of "feeding the homeless" will provide countless articles from across the country where feeding the homeless in parks has become illegal without proper health permits. The point of this article is not to address the jurisdiction of the city government regarding the feeding of the homeless. Rather, my concern is: does the sporadic public feeding of the homeless truly benefit them? In Birmingham, we have numerous shelters that feed the homeless and two Day Centers that serve lunch every day of the year: Pathways serves women and children and the Firehouse Shelter serves men. When a homeless person steps foot in a homeless shelter, they are connected to many more resources than would be available to them through an individual or even a church group. Here at Pathways, the women and children can not only receive a meal, they also have access to life skill classes, Bible studies, counseling, computers, and a clothing closet in addition to a social worker who provides case management and referrals to other needed resources such as medical or mental health care. Food is very crucial; however it seems to be exponentially more beneficial when individuals, groups, and churches partner with agencies that have access to more services. We have opportunities for volunteers to come in and serve the food our cook has prepared or to bring in their own food with which to bless our guests. By partnering with a homeless shelter or agency we can not only provide a meal for those in need but we can provide other services as well that will help to lift them out of their desperate situation. Pathways welcomes people to come along side our agency in serving the homeless community. In fact, homeless shelters depend upon the generous donations of money, time, food and resources from individuals, groups and churches who make the work of the shelter possible.
I once thought that handing out some food on Christmas Eve was beneficial to the homeless. But now, I wonder if I was just enabling them to continue living in the same life style rather than introducing them to a homeless shelter that would provide help and resources, empowering them to become independent members of society.