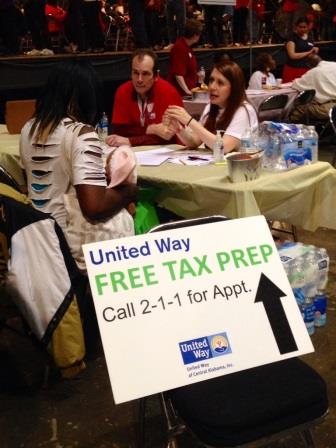 This year, Project Homeless Connect (PHC) was a huge collaboration between 65 agencies and more than 1,000 volunteers offering resources to more than 900 people in need. Many of our staff members served as volunteers and they each saw PHC from a different perspective…
Jennifer - Intake Worker
2014 was my second year to serve as an intake worker for Project Homeless Connect. The purpose of an intake worker is to document attendance to PHC through a state-wide online management tool called HMIS: Homeless Management Information Systems. The database allows shelters and service providers the opportunity to share information. I was seated in front of a laptop and watched the long lines while receiving final instruction on the procedure and processes for the day. Upon entry, the participants were paired with a Smiling Face (individual volunteers through Hands on Birmingham), then filled out general intake paperwork. Upon completion, pairs formed another line and waited for an intake worker to become available. My task was simple: locate each individual who would be receiving services in the database and either confirm or correct their general information based on the paperwork they provided. There were also a series of more complicated and personal follow-up questions that I needed to ask face-to-face. After each individual's participation was documented, I answered any immediate questions regarding services available, gave them a wrist band and pointed them to the auditorium. The opportunity to speak one-on-one with people from all walks of the homeless community (first time homeless, chronically homeless, families and/or individuals experiencing homelessness) was what made the day enjoyable for me. Personal connections are sometimes easy to overlook as a service provider. Opportunities like PHC allow for new and eye-opening experiences.
Liz – Smiling Face Client Guide
Being a recent resident of Birmingham, this was my first year volunteering at PHC. Though I talked with colleagues who volunteered in the past and read everything on Hands On Birmingham's site about this huge endeavor, I was not prepared for how many resources would be made available by the community to those struggling with homelessness. As a smiling face client guide, my job was to be a friend and to make sure the client got to the proper stations to receive the services they needed. The young man I was paired with was able to get a new social security card and a state ID. Throughout the course of the morning I ran into several of Pathways' guests who were utilizing the tax prep services, medical screenings, and legal services. One of the lawyers even offered to meet with one of our guests the following Monday to help with some legal issues. In addition to these very popular resources, everyone had access to voter registration, spiritual counseling, services for the mentally ill, vision and dental care, food stamps and many other services. Pathways offers many resources to our guests, however it was refreshing to see so many agencies working together to provide services that aren't so easily accessible to individuals and families who have found themselves homeless.
Karmyn – Runner
Project Homeless Connect was an eye opening experience and one that I will never forget. I had the opportunity to serve as a runner where I fulfilled the needs of service providers and/or intake workers, as well as acted as a resource for several clients and their smiling face guides. Once clients received all of their services for the day, I was able to greet them at the EXIT and direct them to where thousands of homemade toiletry kits were waiting for them. A few weeks prior to PHC I participated in Cardboard Connect which is an event connecting middle school and high school students around the city to the reality of being homeless and the obstacles that hinder many of them from successfully transitioning back into society. At Cardboard Connect, I along with several teens, fellow AmeriCorps members, and other adult volunteers assembled the toiletry kits for Project Homeless Connect. To see the smiles on their faces when they received their package is a memory that won't ever fade away. As hundreds of participants passed by sporting new hairstyles and haircuts, reading glasses, clean smiles, and some with a newly found sense of hope, the services provided at Project Homeless Connect are indeed what makes this event so essential to the homeless community. I'm certainly looking forward to serving again next year!