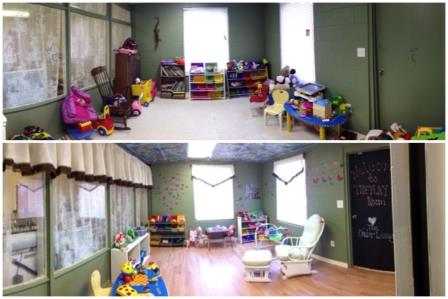 "The experience of homelessness inhibits the physical, emotional, cognitive, social, and behavioral development of children." Because of this unfortunate reality, a sense of normalcy is important for children who have been faced with the trial of homelessness. The Junior League of Birmingham decided to do something about this, and decided to provide a space and opportunity for kids to just be kids.
Earlier this year, several Junior League members did a site visit to brainstorm and draft plans with Pathways' staff in order to ensure a functional and friendly toy room for the children that come through our Southside family shelter. After drawing up some sketches, making some lists, and gathering supplies and donations, they planned two different work days with occasional smaller projects in between.
The Junior League secured wood flooring donated by Home Depot and installed by Edwin Isaac LLC as well as artwork for the ceiling from Sips and Strokes. There was also impressive talent within the group, from the volunteer who made the curtains to the women who assembled the furniture with their power tools. Here are in-progress pictures from their work days.
In the midst of instability, the children in our shelter program now have the opportunity to play with each other in a safe, clean and kid-friendly environment. We are very grateful for the Junior League of Birmingham making this enriching opportunity a reality for the families here at Pathways.