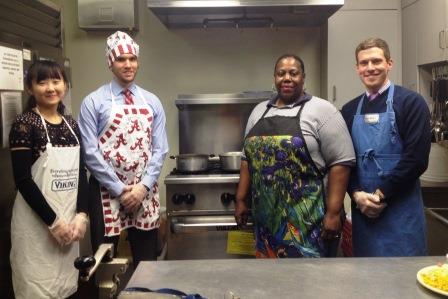 Last Thursday afternoon Pathways received a very special delivery – a brand new industrial kitchen stove! Our Day Center cook Mrs. Diane Harris lit up with joy as Dixie Supply Company delivered one of the most precious items at our Downtown location. Pathways serves lunch daily to a number of homeless women and children; as well as dinner each night for our Parson's Place and Safe Haven guests.
The old stove, which was used well for about 10 years, allowed Pathways to serve more than 5,000 meals annually. With the handy features of the new stove, Pathways' cooks will be able to reduce their cooking times tremendously while preparing more food due to the much needed extra space in the oven.
Pathways would like to send a kind and special thank you to the Treasury Department at Regions Bank, for raising over $2,500 in order to purchase the stove for our Day Center. This group also volunteers on a weekly basis, serving lunch to our guests. We cannot thank you enough for your generosity and commitment to Pathways and its mission. It has truly been a blessing!