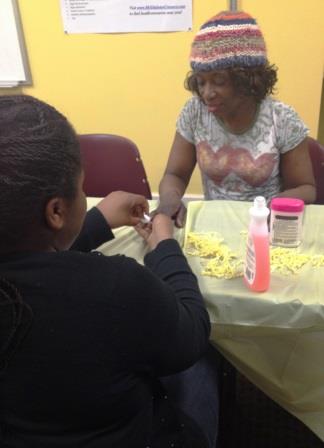 Earlier this month, Dream Girls Christian Academy chose to come to Pathways to pamper our Day Center guests with manicures.
Dream Girls Christian Academy is a Christian non-profit mentoring program for girls ages 9-18. Their whole program is designed "to illuminate spiritual awareness, build spiritual knowledge, promote cultural awareness, and endorse academic excellence and social development. " As this wonderful organization seeks to empower and provide positive direction to these young women, Dream Girls places much emphasis on community service.
The Dream Girls team arrived bright and early on a Saturday morning, ready to serve. They prepared the room by arranging tables, setting out table clothes, laying out food, putting on some music and making sure all their manicure supplies were in place.
Though receiving a manicure is not vital to one's physical well-being, it can play a significant role in a woman's emotional well-being. This simple act of teen-age girls giving up a Saturday morning to file down and paint a stranger's nails goes a long way in saying "I care about you".