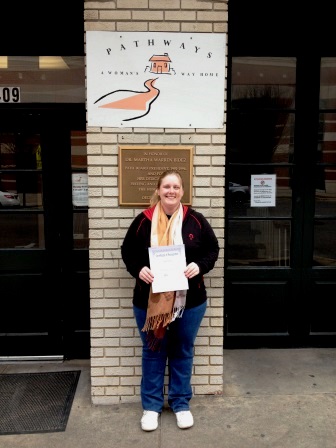 Pathways recently partnered with BBVA Compass and Everfi to provide a computer-based financial literacy education to guests in each of our six programs (Parson Place, Safe Haven, Anchor, Wings, our family shelter and our Day Center). The program, entitled Everfi @ Work, was created with adult learners in mind. The curriculum consists of eight modules that include Savings and Investments, Overdraft Protection, and Identity Protection. The entire program can take one to two hours to complete. Participants can complete the program individually, at their own pace, within their own time frame by following along with the slideshow on the computer for each module, while listening to the material being read aloud. The audio piece is a great component as it helps to deem illiterate participants eligible. We are grateful for the flexibility of this program and feel that it can be massively implemented to reach the highest number of participants possible. We are aiming to share this program with at least 75 homeless women this year, with the help of numerous volunteers who will act as facilitators.
On March 4, 2014, we successfully implemented the Everfi @ Work program in our Day Center. Our computer lab was prepped by a BBVA Compass volunteer, Ralph Addington. Each computer had the Everfi @ Work home page showing on the screen and headphones were plugged in to the towers. Four individuals entered the classroom, some apprehensive about using a computer at all. With brief instructions on how to access the modules (an email address and password are required), the participants were able to get started. After a short hour, Day Center guest Amanda looked up from her computer beaming. She was the first participant to successfully complete the Everfi @ Work financial literacy program! She stood by proudly as a certificate of completion printed from the classroom printer.
The barriers that can encase an individual in homelessness are numerous, wide-spread, and can often feel impossible to overcome. Every achievement is considered a huge success and is a stepping stone to that individual's journey out of homelessness.
Way to go Amanda!