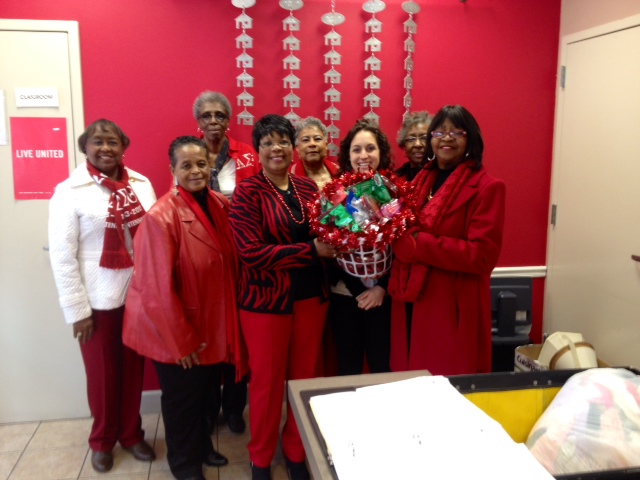 Pathways was a lively and joyous place on Friday! Many individuals and groups came by our downtown location to share some Valentine's Day love.
Around mid-morning Marvolyn Tarver dropped by, bringing in hand lotion and lip gloss valentines for our Parson's Place and Safe Haven guests. It was wonderful pampering gift to our ladies.
Right before lunch, Carole Watkins and her sorority sisters (pictured above) brought by candy for the Day Center guests because she said "everyone deserves a valentine". She even brought sugar free candy for our diabetic guests so that everyone could enjoy a special treat.
Kathy Perry told her husband earlier last week, "I don't need flowers, don't need candy, don't need a fruit bouquet." All she wanted was to "spend the money on the ladies." She stayed up until midnight Thursday night preparing lunch for the Day Center guests. She brought in chili, by special request of one of the children, hot dogs, corn bread, brownies and her famous carrot cake. The Day Center guests were thrilled to see her smiling face and get their fill of her delicious food.
Katherine Dearing, a faithful volunteer who comes every Friday, didn't miss out on the Valentine's Day festivities as she helped serve lunch.
We are so blessed to have so many people in the community who truly care about our guests and make them feel loved. Thank you!