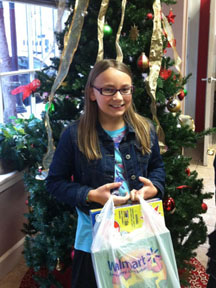 All Etta Putman wanted for Christmas this year was presents for homeless children.
The 10-year-old's wish list included toys, games, and art supplies for Pathways' Learning to Be a Kid program, or LBK. LBK uses fun activities and crafts to teach homeless children how to deal with day-to-day situations and emotions. Topics include Attitude, Self-Esteem, Anger Management, Goals, and Kindness.
Family and friends gave Etta the items for Christmas. Etta, her mother Marilyn Putman, her sister, and best friend stopped by Pathways on Monday, December 30 to deliver several bags of toys, art supplies and games that she had been given. Etta donated new clothing and shoes for Pathways' children as well.
Included with her generous donation was a note from Etta to the children:
Dear Kids,
Hey, my name's Etta. Merry Christmas and a Happy New Year! The one thing I wanted to say would have to be to just remember that GOD loves you, no matter who you are or what you've done. in Roman's 8:38-39, the Bible says "For I am convinced that neither death nor life, neither angels nor demons, not the present, past, or future, no powers, neither height, nor depth, nothing else in all creation will be able to separate us from the love of our God that is in Jesus Christ, our Lord."
Love, Etta
Thank you, Etta! You're kindness will truly make a difference in the life of homeless children.
Learning to Be a Kid enjoys the financial support of the Alabama Department of Child Abuse and Neglect Prevention's Children's Trust Fund and United Way of Central Alabama.