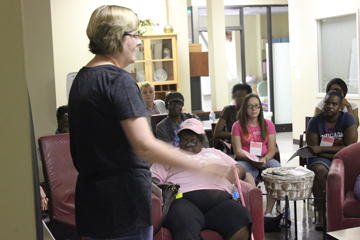 Dr. Cynthia Ryan is on a mission to instill homeless women with a positive body image and teach them how to defeat a great adversary: breast cancer.
The annual Street Smarts: Day of Pampering and Breast Cancer Awareness event held on June 7 at Pathways was a wonderful success. Street Smarts was designed specifically to teach homeless women about the disease while treating them to self-esteem boosting activities, including manicures and facials.
Dr. Ryan, the program's creator and founder, ensured that every attendee felt special and received practical information about breast cancer. Breast cancer is a disease Dr. Ryan knows all too well. She was diagnosed with it in her 20s, but because she knew the signs and the seriousness of the disease, was able to get medical care in time to defeat it.
Edwina, a guest speaker at the event, is a breast cancer survivor and a former homeless woman. She offered encouraging yet firm words to remind the ladies that they can overcome any obstacle they face. When she found a lump in her breast, she waited five years before seeking medical treatment because she had no health insurance. That decision could have cost her her life, she said.
The Susan G. Komen Foundation of Central Alabama gave every attendee a goody bag filled with pamphlets, t-shirts, and toiletries. Cindy from the Alabama Department of Health provided the ladies with information on how to access preventative healthcare. Newk's Cafe donated nutritious boxed lunches to every participant and all of the volunteers. We were fortunate to have Mary Kay and Aveda representatives provide pampering sessions for each woman. More than 40 homeless guests participated in the event.
Participants also had an opportunity to create their own necklaces made out of beads of various shapes and sizes that represented the different types of lumps that could be a sign of breast cancer.
"I was very impressed by the two speakers with their testimonies. I was very well-informed about cervical and breast cancer," said Sandra, a Day Center guest who participated in Street Smarts. "I enjoyed the class and the facial, make-up done by Mary Kay, and having my nails colored by the UAB and Aveda students. Thank you Pathways for such good day!"
Janis Evans is the Volunteer Coordinator and Development Assistant for Pathways.