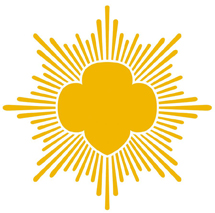 Rachel, a high school senior at John Carroll and a member of the Girl Scouts of North Central Alabama, was seeking a volunteer service site where she could earn her Gold Award.
She chose Pathways because she was very compassionate about the homeless community, especially homeless children. Her project, entitled "Pathways to Transition," became a partnership between Girl Scouts of North Central Alabama, Jefferson State Community College, Sixth Avenue Baptist Church, John Carroll, and the Brownie Troop she leads.
The Girl Scout Gold Award represents the highest achievement in Girl Scouting. Open only to girls in high school, this prestigious award challenges girls to change the world—or at least their corner of it.
Rachel's overall goal was to end homelessness. But as she soon learned, that is a very lofty goal. However, Rachel's compassion and dedication was a huge step in the right direction.
After discussing her project with Pathways' staff, Rachel decided that assisting Pathways with its Employment Readiness Program, which teaches guests how to find a job, would be the best way for her to fulfill her broad mission.
Rachel, along with Professor Tiffany Todd of Jefferson State Community College, designed and facilitated a 2-hour bi-weekly class on the use of social media during a job search. The class participants were impressed by Rachel's confidence, knowledge, and passion. During a celebration at the end of the class, the women were given certificates - signed by Rachel, of course.
"Rachel is so dedicated to helping us," said one guest who participated in Rachael's class.
"Rachel is a smart girl," said another.
The social media class was just the beginning. She, along with the Brownie troop she mentors, made bracelets, necklaces, and custom t-shirts, then gave them to the women and children living at Pathways. Next, she motivated her church to buy household items, which were packaged in practical and reusable baskets to give to women when they move out of Pathways' shelters. These "Hospitality Baskets" serve as encouragement to women as they move to the next step on their journey as well as a reminder of the obstacles they have overcome.
Rachel's final project was establishing a homeless-focused committee at her church. This committee will volunteer at Pathways and other homeless shelters in hopes of aiding even more homeless individuals.
Congrats, Rachel! And thank you for ending homelessness for many women and children.