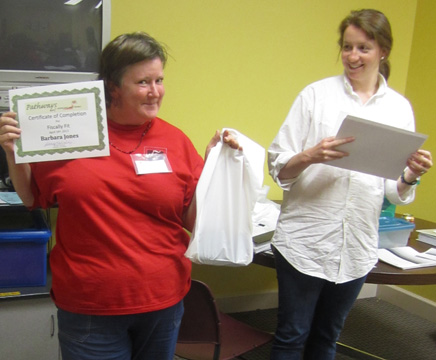 Cheers erupt from the Pathways' classroom in downtown Birmingham on the evening of April 18th, 2013. The cheers weren't due to a sporting team's phenomenal victory or a stellar performance by a rock star. The cheers were in celebration of a group of homeless women achieving their goals and moving one more step towards independence.
Tranda Fleming, Barbara Jones, Jackie Fillmore, Jutta Berg and several others were celebrating their graduation from Pathways' Fiscally Fit program. Fiscally Fit has been in existence for five years and utilizes a curriculum developed by the FDIC called Money Smart. Modules included "Borrowing Basics," "Check It Out," and "Pay Yourself First." The program consists of four evening classes facilitated by volunteers through the Junior League of Birmingham.
Homeless individuals often encounter several hindrances on their paths to independence, including lack of childcare, unreliable transportation, misinformation and hopelessness. Pathways strives to help homeless women overcome these hardships. With the monetary support of the Junior League of Birmingham, Pathways provides meals, childcare, financial literacy training and hope to the homeless population in our city, so that women like Tranda, Barbara, Jackie, Jutta and many others can achieve their goals of moving towards a life of independence.