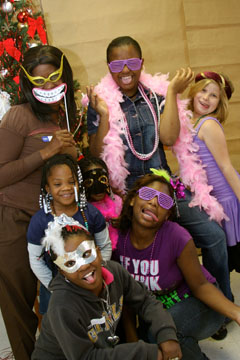 In December, Redstone Church and other North Point Community Churches hosted a community action campaign called "Be Rich: Do More. Give More." The campaign encouraged members to get involved in the community by working with area nonprofits, including Pathways.
Each group was asked to find a creative way to volunteer. One group's idea was to bring in a photo booth to Pathways.
"The photo booth was chosen as an activity because Redstone meets at Photo Square in Homewood, and it was a popular event at Redstone earlier in the year," said Jared Smith, a Redstone Church member. "It doesn't matter where you are in your journey of life; everyone enjoys an opportunity to smile, have some fun, and have their picture taken."
At first, some of Pathways' guests were shy about participating in the photo booth activity. Redstone volunteers, in order to help the guests feel more comfortable, decided to have their group members' pictures taken first. They put on costumes and silly glasses, and before long, the children and their mothers joined in. They ended up spending several fun hours with the Redstone volunteers and the photo booth.
Afterwards, Jared printed copies of the photos to give the families as gifts.
As you look back through the photos, you realized the guests really enjoyed themselves. Someone once said, "a picture is worth a thousand words." But the photos from Redstone's photo booth multiplied that amount by thousands.
To learn more about Redstone's Be Rich campaign, visit www.redstonechurch.org/be-rich.