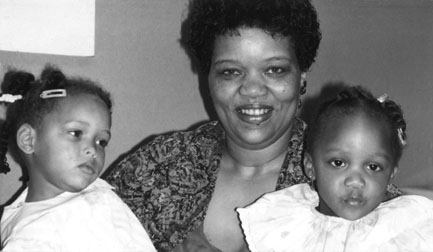 It was the middle of the night when Martha awoke to the sound of the refrigerator door opening. Going into the kitchen to investigate, she found her young son standing in front of the open door, staring inside.
"I'm just looking at all the food, Mom," he said. "I can eat whatever I want in there?"
The boy, whose mother struggled with a cocaine addiction, knew what it was like to be truly hungry. But now, thanks to the organization now known as Pathways, his family didn't have to worry about having enough food to eat.
Martha's story of addiction and recovery will forever be interwoven with the story of Pathways, which celebrates its 10th birthday this year. As a former client, she experienced firsthand the commitment of the agency's staff, who fought an uphill battle to help her change her life. Today, she in turn helps other women who struggle with drug addiction and homelessness as well as mental illness by working as a full-time staff member of Pathways.
Martha was first introduced to Birmingham PATH, which merged with Bread and Roses in 2003 to form Pathways, in the early 1990s. As part of the drug treatment program she was enrolled in at Aletheia House, she made frequent visits to PATH. One day, Martha overheard PATH Executive Director Sister Mary Oliver commenting that she didn't know what she was going to do with some extra artichoke hearts, asparagus and hollandaise they had on hand.
Martha, who was pregnant at the time, thought that all sounded delicious. So they started talking.
This began a lifelong friendship. Martha would stop by Sister Mary's office and visit each time she was at PATH. Eventually, Martha was enrolled into PATH's transitional housing program. She even became actively involved in helping the agency with its capital campaign in the mid-1990s.
But this was not the end of Martha's struggles. She fell back to cocaine use several times over the years. Still, Sister Mary and PATH social workers did not give up on her.
"They just were very patient with me," Martha said. "It was like having a family, having someone to be emotionally accountable to."
PATH supported Martha as she worked on her degree in commercial sewing at Lawson State Community College. They provided her with furniture and household items and helped her move into her own house. They helped her to manage her money responsibly. They helped her children go to therapy. One year, a board member fulfilled her Christmas wish list by giving her a sewing machine and a velour bathrobe.
"When you're homeless, you're just dangling by a thread," Martha said, her eyes filled with tears. "You need to know someone is there for you. I just can't express the love I have for this place."
Other than PATH, Martha had no support system. Her mother died in 1982, she had no siblings, and she was not close with any of her distant relatives.
Martha is proud to say she has been clean since 1996. Since then, she has dedicated her life to helping others. On several occasions, she and Sister Mary would visit the Department of Human Resources, where Martha would train staff to better identify signs of drug use in a home.
Then, in 2006, Pathways opened Safe Haven, a permanent housing program for chronically homeless women with a mental illness, and hired Martha as its first full-time house manager. In that role, which she still holds today, she helps women who are going through a similar plight as she once did.
"When you see the lost look on some of the lady's faces, well, that's how you feel," she said. "Your self esteem can get trampled to nothing – to dust."
Her children are also doing well. Her son is a corrections officer who served two tours in Iraq as a Marine. One daughter is a nurse, another is a college student, and the third a new mom. Recently, Sister Mary had the opportunity to meet Martha's youngest grandson.
All four children are very philanthropic, donating household items they do not need to others, remembering how such donations once benefited them
And each year, Martha takes pleasure in asking members of her church to support Pathways by buying Christmas gifts for the families it serves.
"It's been a long relationship, but it's always been healthy and helpful – not enabling, not at all," Martha said.
"Pathways is like family. And that's priceless."
Karen Griner is the Development Director at Pathways.