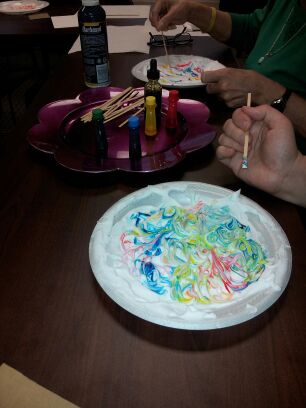 As the New Year dawns, guests at Pathways may just find a way to meet their New Years' resolutions through educational opportunities offered here at Pathways. The education calendar is filling quickly with individuals and organizations who are interested in teaching at Pathways. Regardless of one's New Year's resolution, our education department offers a variety of classes to our Day Center, Parson's Place and Safe Haven guests. These include: art therapy, poetry, domestic violence awareness, self-esteem building, parenting, employment readiness and fiscal management.
An exciting addition to our Day Center calendar has been a partnership with Oasis Counseling for Women and Children. Once a month, an art therapist teaches art to Pathways' guests using various mediums. Most recently, the guests created "marble paper." Using only a few household items, guests were encouraged to be creative and not stifle self-expression by trying to accomplish "perfect" artwork. The art therapist asked open-ended and thought-provoking questions to facilitate conversation including "How do the colors make you feel?" and "What do you see in your artwork?"
The end result of this class was beautiful, one of a kind artwork and smiling, content faces on Pathways' guests.
Supplies Needed:
Paper Plates
Shaving Cream
Cardboard
Food Coloring
Watercolor Paper
Paper Towels
Popsicle Sticks
Process:
Put whipped cream on a plate. Spread it out with the cardboard. Add a few drops of food coloring (only 2-3 colors are recommended). Using a popsicle stick, gently blend colors (not necessarily stirring, but "connecting" the colors. Place watercolor paper over colored shaving cream. Press lightly to coat paper. Lay paper shaving cream side up. Scrap shaving cream off using cardboard. Only the food color remains leaving "marble paper."
Jennifer Holmberg is the Education Coordinator at Pathways.