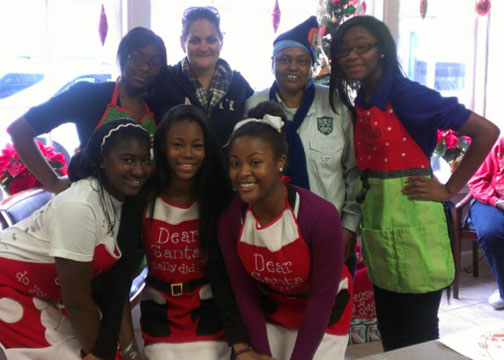 Pathways' 2013 Holiday program was amazing. We are very fortunate to have so many individuals and groups interested in the guests we serve every day. One of the traditions established during the annual Day Center Holiday Program is to focus on giving our guests a small ounce of hope that, if embraced, will transition into the New Year.
This year's Holiday Program began with a special Holiday Blessing from Tarek Williams, a member of the youth and young adult group of IAMGReatness (IAG). IAG was founded earlier this year by Mr. Jamaree Collins. Jamaree wanted to help inner city youth, especially members from his local church, to have the opportunity to give back to their community and provide a safe and supportive environment.
Divine Destiny 1 and 2 performed a few Holiday Liturgical dances for our guests. Divine Destiny are all members of Emmanuel Temple Holiness Church in Alabaster. The group is led by Ms. Yolanda Thomas. Yolanda first heard about Pathways after reading a post on Facebook about one of the ladies visiting our Day Center. She was intrigued and decided to get involved. It has been a wonderful partnership.
Meanwhile, Mr. Don and Mrs. Della Gardner were our guests speakers. They each spoke about their journeys from homelessness to permanent housing. They spoke about their experiences while offering many of our guests a hopeful future.
Of course, the holidays are never complete without singing, games, and food. Beth Cobb and her niece, Breagan, came out to serve as Santa's elves. They helped ensure that all guests received gifts that were donated by supporters like you. Items they received included lotions and handbags.
Afterwards, the guests were escorted to the dining area of the Day Center by the children who had come to volunteer. There, they were served a delicious spaghetti feast prepared by Emmanuel Temple Holiness Church.
This year's Day Center Holiday Program was truly filled with peace and goodwill to all.
Thank you for helping us make such magic moments happen. Happy Holidays!
Janis Evans is the Volunteer Coordinator and Development Assistant at Pathways.