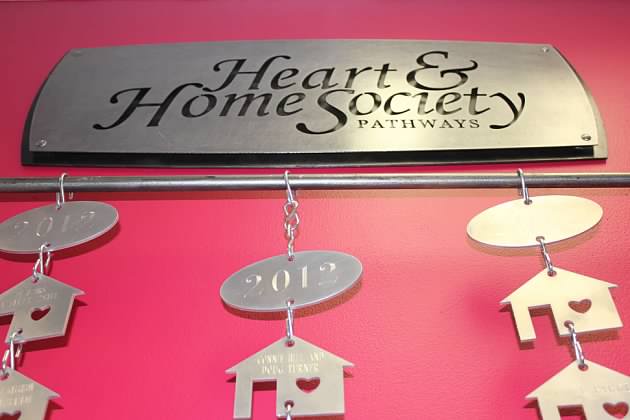 Pathways unveiled a beautiful new donor wall on Tuesday night to honor the supporters of its newest fundraising campaign, the Heart & Home Society.
Local iron artist Justin Cordes was commissioned to design and make the pieces that adorn the wall – individual houses with heart cut outs and a sign with the campaign's logo. Donors' names were engraved onto each house, which were then linked together and hung from a rod on the wall.
Heart & Home Society donors gave $1,000 or more to the campaign. They were then recognized at a dinner at Kathy G's Park Lane in May. The campaign's inaugural year raised over $40,000. Pathways Board member Nancy Goedecke served as honorary chair of this year's campaign.
Each year, additional houses will be added to the wall in recognition of that year's donors.
A reception was held on Tuesday to unveil the new donor wall. Campaign donors, Board members, staff and homeless women who are guests of Pathways gathered together for the event.
Among those in attendance were Pathways Executive Director Maria Dickens, Heart & Home Society 2012 Honorary Chair Nancy Goedecke, Board President Greg King, Board members Claire Parker, Shirley Fagan, Ann Langford and her husband Dick Langford, Courtney Young, Adrian Thurstin, Roman Gary, Nancy Prater, Margaret Ritchie, and Emily Vance, staff members Karen Griner, Janis Evans, Jennifer Holmberg, China McWashington, Deisha Rosser, Gail Fitzgerald, Keisha Hunter, Martha Williams, and AmeriCorps Member Irion Lane.
Karen Griner is the Development Director at Pathways.