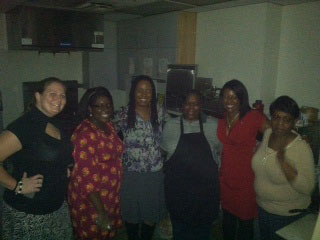 Today started like any other. Pathways' staff was busy working towards our mission. The Day Center guests were learning how to effectively save and budget money from a BBVA Compass Fiscally Fit volunteer. In fact, the hustle and bustle of the day was just beginning to get in high gear when Pathways suddenly went dark.
Instantly, Pathways went into emergency mode. All staff members searched for clues or answers as to what caused the power outage. In order to navigate hallways, the Day Center, and administrative halls, staff pulled out phones and used the flashlight app. The app proved to be effective.
Meanwhile, many of the patiently waiting guests were starting to show signs of hunger. Irion Lane, Pathways' AmeriCorps member, and Maria Dickens, Pathways Executive Director, suggested using the flashlight app as a source of light while Diane, Pathways' Day Center cook, prepared individual plates of food. So along with Jennifer Holmberg, Pathways' Educational Coordinator, volunteer Paige Bates, a Day Center guest, and I ensured that every guest had an opportunity to eat a hot meal before having to return to an emergency shelter or the streets.
Although the events surrounding the day were not as eventful as the television series Revolution, what happened at Pathways when the Power Went Off was truly inspirational, unforgettable – and entertaining, to say the least.
Janis Evans is the Volunteer Coordinator and Development Assistant at Pathways.