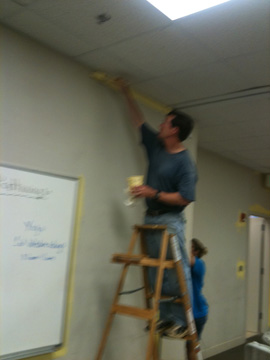 On a recent Sunday afternoon, a few good men and women volunteered at Pathways. They were a part of more than 1,000 individuals participated in Birmingham's first ever Magic City Miracle's Community Service Day, an event sponsored by several local Methodist churches. Liberty Crossings, Discovery, Avondale, St. Junia, and Highlands United Methodist Church worked together to host this city-wide community service day.
Pathways was one of the sites chosen to be a recipient of this day of service. Volunteer leaders worked with the host sites for weeks prior to this day of service to determine Pathways' most urgent needs. One important need was a face lift in the single woman transitional shelter (Parson's Place). Parson's Place can house a total of 16 women for 6 or more months. It is similar to a dorm-like atmosphere because the guests are divided among a total of 5 rooms. In order to ensure that the guests continue to feel comfortable and welcomed, the room needed some sprucing up. The volunteer leader for this project decided to purchase paintings, lamps, and bed linens and to have each room cleaned.
Another set of volunteers focused on painting the downstairs area. Several staff members helped choose the colors for the classroom. A vibrant yellow was selected to create a bright and engaging space. The room serves as the host room for the adult women taking classes and participating in other various activities such as yoga or painting. Meanwhile, a soft chocolate pink was chosen for the lobby. This color will hopefully translate to every individual entering the building that Pathways is a warm, welcoming hospitable environment where our mission is "to end homelessness for women and children through hospitality, housing, and hope."
Janis Evans is the Volunteer Coordinator/Development Assistant at Pathways.