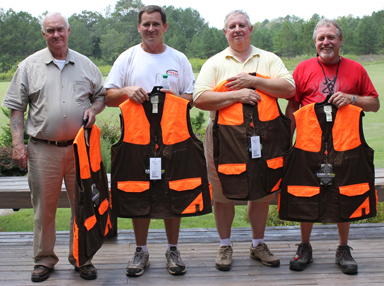 Each August, four-person teams gather at Selwood Farm in Alpine for Pathways' annual fundraiser. This year, the 14th Annual Sporting Clays event raises $20,000 for Pathways.
Sporting Clays is a sport where participants shoot at clay targets with a shotgun. Points are awarded for every target hit, and each team and individual compete for the highest score.
"It's a unique way for people to have some fun while still giving back in their own way and supporting a cause that continues to be an issue," said Greg King, Vice President of Marketing for Iberia Bank and chair of the event. "To the extent that we can chip away at homelessness and solve the issue, it makes the community a better place."
National Cement was the Major Sponsor of the event. Its team went head-to-head with teams sponsored by Altec, CMH Architects, Energen, Gray Construction, One Stop Environmental, Rives Construction, and Martin Marietta.
Shooting Station sponsors were EBSCO Industries, JH Berry & Gilbert, Brasfield & Gorrie, Massey Hauling, and Warrior Tractor & Equipment.
Food and beverages were provided by Dunn Investment Company, CEMEX, Kirkpatrick Concrete, and Birmingham Coca-Cola Bottling Company. Other sponsors were Bradley Arant Boult Cummings, Iberia Bank, and Industrial Chemicals.