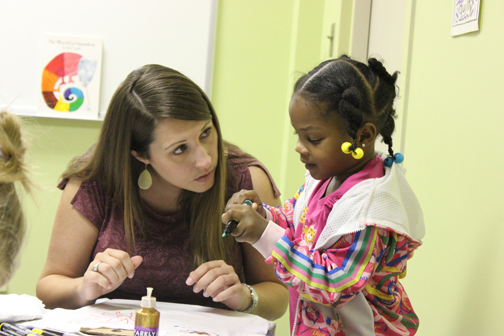 Catherine's 7-year-old classmate Jay then shared that he had received an above average score in reading that day at school. The 4th grader was reading at the 6th grade level.
After Jones gave him a high-five for his achievement, Hard asked him to read "Where the Wild Things Are" to the rest of the class. He happily agreed.
For two weeks every other month, homeless children like Catherine and Jay spend their evenings at Pathways with Junior League volunteers who facilitate the agency's Learning to Be a Kid program. LBK, as it is affectionately known, works to teach these children about emotions, anger, decision making and self-esteem.
LBK was created about 20 years ago as a companion program to Pathways' Employment Readiness Program. That program teaches homeless women how to write a resume, perform well in a job interview, and dress professionally. But many women with children were unable to participate because they did not have access to evening childcare. Pathways' solution to breaking down that barrier was to develop a program specifically geared toward the needs of those homeless women's children.
Trained volunteers from the Junior League of Birmingham have facilitated the LBK classes for nearly a decade.
Each year, the Junior League provides funding and trained volunteers to about 30 programs run by area nonprofits. Pathways has the great fortune of receiving Junior League support for three of its programs – Employment Readiness, Learning to Be a Kid, and, for the first time this year, Fiscally Fit. All three support the Junior League's Financial Stability Impact Area.
Jones and Hard obviously love volunteering as LBK facilitators. This year is Jones' fourth year in the program and Hard's eighth.
"I have been doing this placement for so many years, I cannot remember my original reason for signing up other than it sounded like a rewarding experience that I wanted to be a part of," Hard said. "Every year is a different group of children, and it is nice to try to make a positive impact in their lives in the two weeks we are with them."
The LBK curriculum teaches the following concepts: Attitude, Self-Esteem/Pride, Trust/Truth. Independence/Self-Reliance, Anger/Courage, Goals and Kindness.
But to the children, who learn these skills through arts and crafts and reading books, they're just having fun.
On this particular Wednesday, Catherine, Jay and two classmates decorated t-shirts. While Jones traced a little girl's hand on a shirt, Jay piled on the glitter paint to spell the words, "I love you, Momma."
Later, he challenged Hard to a game of Jenga while describing his dream of becoming a professional ball player: football, baseball, and basketball. He wants to do it all.
Then, he beats Hard at Jenga and does a victory dance.
"The children are so very sweet and are in need of attention," Hard said. "I try to give them an open forum so they feel comfortable discussing their lives – school, family, struggles, home – with the group so they can see that they are not alone in this world and that many people care for them."
"Being a positive role model – listening to them and giving them full attention – is the most important thing we as volunteers can do."