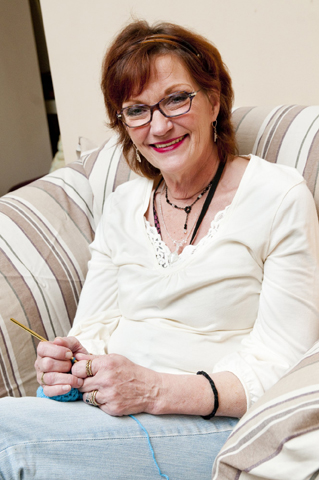 In fall 2011, Safe Haven house manager Martha Williams found Diane unconscious in her bedroom. She was rushed to the hospital, where she was diagnosed with spinal meningitis. She was in a coma for two weeks.
Doctors feared the worst. They believed survival was minimal, and if she did live, she would suffer severe brain damage. If it were the latter, they estimated it would take a full year to know the full effect the illness had taken on her brain. They started to prepare Diane's friends for bad news.
She did not die, but when Diane first woke up, she didn't know who or where she was. She stayed in the hospital another week. When she returned to Pathways, she was unable to walk straight, and she suffered lapses in memory.
Nearly a year later, she is able to walk normally. She occasionally forgets a word or how to spell something, which frustrates the former paralegal. But she feels lucky that the damage was not more extensive.
"I was fortunate I didn't come out worse," Diane said. "They gave me no reason for hope."
In the days and weeks after her return from the hospital, Diane needed something to occupy her mind as well as stimulate her brain. A friend of hers in Safe Haven, a permanent housing facility for chronically homeless women, enjoyed crocheting and encouraged her to give it a shot.
"I needed something to occupy my brain, to keep my mind off of me," she said.
Diane's grandmother tried to teach Diane how to crochet when she was a teenager, but she was never able to get the hang of it. Still, she decided to give the hobby a second chance. Because of the brain damage she suffered, she could not remember any of her grandmother's lessons, but she persisted and slowly re-taught herself, stitch by stitch.
She started out simple – hats and scarves. But she dreamed of being able to make baby clothes.
"Anybody can do hats and scarves," she joked.
When she looked at the pattern of what would be her first baby dress, she said to herself, "I'll never be able to do that." Three months after her coma, it was complete. Now, it's one of her favorite pieces, one that makes her most proud.
Diane hopes to sell her baby clothes so that she can afford materials to keep up her hobby. She says she doesn't want to make a profit – she just wants to be able to continue crocheting and to do so without dipping into her disability checks.
Diane is grateful for the support and encouragement she has received from Pathways' staff, some of whom support her by purchasing her items.
"I just believe this is what God wanted me to do and that I am finally where I am supposed to be," she said.
If you are interested in purchasing any of Diane's crocheted baby clothes, you may email her at prism5612@yahoo.com.