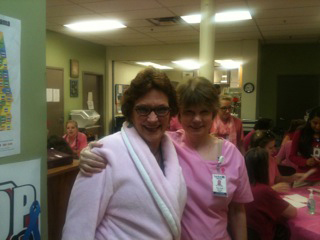 Pathways chose to demonstrate and stand for two major causes. We have spent the month of October promoting Breast Cancer Awareness and educating our guests on Domestic Violence. These topics are much more prevalent amongst our guests because of their current homeless status. However, don't make light of the fact that I refer to their homeless status as "current" because for many of our guests, these issues will haunt them throughout their life's journey.
On October 25, 2012, we (Pathways guests and staff) stood alongside the Samford University Ida V. Moffet School of Nursing students on an issue that affects so many families locally, nationally, and across the world. We wore pink because every guest, staff, and visitor in our building on that day knew someone who's life changed because of breast cancer.
On October 31, 2012, we will stand in honor of victims of domestic violence. We will honor them by providing education to our guests. Thanks to a grant from Verizon Wireless, we will be able to continue providing assistance to women who have suffered from domestic violence. Through a partnership with AmeriCorps, members from Sight Savers will give our guests clothing and small bags of candy. The new clothes will stand as a symbol that a "new" relationship is better than remaining in an "old," abusive relationship. The bags of candy will serve as a reminder that every guest deserved to be "treated" with respect and love.
Now, that is truly something to stand up for.