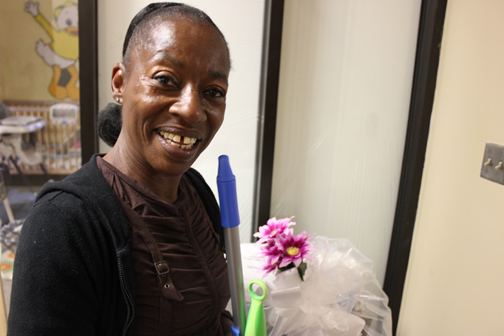 She found shelter a First Light and began spending her days at Pathways' Day Center. She was welcomed with open arms and fully embraced the services offered to her.
Martha, like most Day Center guests, assisted with daily chores. But she always went above and beyond to give back to the agency that provided her with so much hope and hospitality. She volunteered to work in the clothing closet, helped Pathways' head cook, Diane, in the kitchen, and performed various other tasks.
She also spent her time at the Day Center educating herself in order to improve her situation. She earned seven certificates of completion for classes offered in Pathways' Day Center, including Fiscally Fit, which teaches women how to be financially secure and independent.
Meanwhile, she found a job as a house cleaner that provided enough income to help her save up for a place to live.
Then, in mid-October, Martha finally moved into her own apartment. As housewarming gifts, Pathways provided her with gift baskets made by Board members and other volunteers containing cleaning supplies, kitchen items, and new linens.
"I feel so blessed," she said when she was handed her gifts. "This is just Christmas for me."
Martha plans to frame and proudly display her certificates in her new home. She also hopes to come back to the Day Center and continue to volunteer because she loved working there so much.
"The program works, if people will just let it," she said.