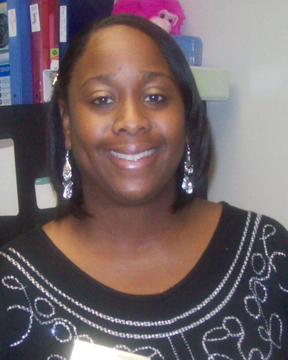 Mostly, though, Keisha loves the relationships she has built with her clients – the residents of Pathways' Safe Haven program.
Keisha's passion for her work has not gone unnoticed by her co-workers at Pathways. After just a few months serving as the social worker for the agency's Safe Haven program, Keisha was voted Employee of the Quarter by her associates. She was the first to receive the title of this newly implemented employee-recognition program.
Keisha has served as Pathways' Safe Haven social worker since November 2011. Safe Haven is a permanent housing program for chronically homeless women with a mental illness.
With funds from the U.S. Department of Housing and Urban Development, Pathways renovated its downtown location several years ago to provide housing and support for chronically homeless women through the Safe Haven program. Designed as a small, homelike setting, the program offers 10 beds and requires 24-hour staffing and case management.
While residents of Safe Haven are not required to participate in mental health or substance abuse services, it is the goal of the program that these residents will come to trust the system and accept the services they need. There is no time limit on Safe Haven residents' length of stay, but the hope is that it will help them move into permanent housing in a supportive setting.
Safe Haven is the only program of its kind for women in the state of Alabama.
When she first started working at Pathways, Keisha was warned that some of the women living at Safe Haven would be reluctant to open up to her. But Keisha was persistent, and eventually she was able to build a trusting relationship with all of the women in Safe Haven.
Her secret?
"It's all the way you approach them and talk to them," she revealed.
Keisha's responsibilities include providing case management and counseling to Safe Haven guests and helping them set and achieve goals. The guests' goals range anywhere from starting a crocheting class to moving out into their own apartment.
"We do a lot of arts and crafts in order to teach the ladies different techniques and outlets to deal with stress and coping skills," Keisha said. "This is used as team-building and relationship-building within SafeHaven."
For example, one woman had set goals to be more outgoing, better able to be in crowds, and to not be afraid to voice her opinion. Getting together with other women to do arts and crafts is helping her to be more comfortable in social situations and to develop positive relationships.
"I love being that support for them," Keisha said. "It's also so amazing, watching how much they've grown."
Keisha also counsels some of Pathways' transitional housing guests on financially stability, relationships, and being self-reliant. In addition, she has set up wrap-around services to provide in-home therapy for individuals and families as well as family support workers to tutor children.
Originally from Sylacauga, Keisha earned her undergraduate degree in social work at Jacksonville State University. She obtained a Master's Degree in Social Work at the University of Alabama.
Her 15 years' experience as a social worker include employment at the Jefferson County Department of Human Resources as a child abuse and neglect investigator, clinical director and therapist at Serraj Family Homes, and an assessment counselor at The Aletheia House.
She also served as the social service director at Consult America H&R and at Golden Living Center, a nursing home in Trussville.
She has two children: a 20-year-old stepson, Wesley, and 8-year-old son, Javen. She and her husband Dabney have been married for 12 years.
To deal with the stress of being a social worker, Keisha enjoys reading, shopping, and spending time with her family.