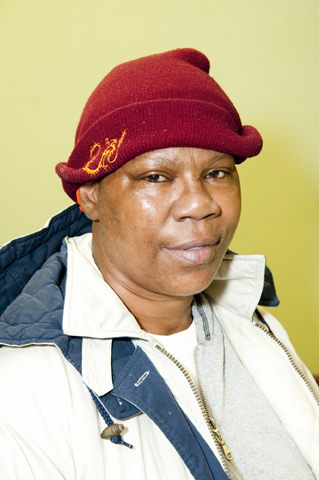 Since then, Lois hadn't been coming to the Day Center as regularly. Then yesterday, she made an appearance, and I decided to see how she was doing. Here is the inspirational conversation that we had:
JE: Hi, how have you been?
L: I'm doing better. I am staying at the Fellowship House and I've been clean for 30 days.
JE: That is amazing! Well, do you remember when you were at Pathways, and a photographer came and snapped your picture?
L: Yes!
JE: Well, I posted that photo on our Facebook page earlier this week. Let me show you. You look amazing. By the way, what is your name?
L: Thank you. I feel good. My name is Lois.
JE: Hi Lois, is it okay if we talk about your success and being clean?
L: Yes.
I showed her the photo and then we chatted.
L: (After looking at picture and smiling) Wow!
JE: Can you see a difference in the woman in the photo and the woman here today?
L: Yes.
JE: I can too! Is it okay if I take another picture of you? I would like to share your story.
L: Yes. Can I have a copy?
JE: Sure! What made you want to go into the Fellowship House?
L: I wanted to get off the streets. I didn't want to be out there anymore.
Someone once stated that a picture is worth a thousand words. Typically, I would agree. However, in this case, her words were worth more than the picture.