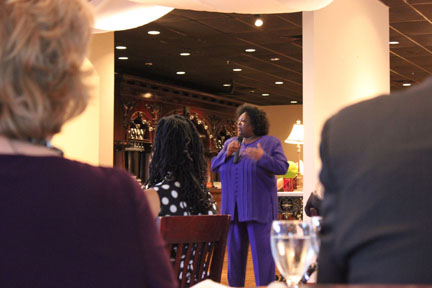 For a donation of $1,000 or more, donors are inducted into the Heart & Home Society. Donors could donate personally, through their company, or have their company match their $500 contribution.
Members of the Heart & Home Society were honored at a dinner at Kathy G. & Company's Park Lane in Mountain Brook on May 31. Chefs Franklin Biggs and Jason Mezrano prepared a wonderful gourmet meal for our guests, and Candy West of The Wine Cellar of Vestavia Hills donated and paired wine for each course. The Hot Tamales wrapped up the evening with fun and lively entertainment.
This year, Nancy Goedecke, who sits on Pathways' Executive Board, served as Honorary Chair of this year's Heart & Home Society.
Guests were reminded of why their support is so important when they heard the story of Robin, a former Pathways guest. For years, Robin lived on the streets, struggled with drug addiction, and spent time in jail. She finally decided to move to Birmingham, where Pathways provided her with the support and services she needed to become drug free, employed, and independent.
The goal was to raise $30,000 through the 2012 Heart & Home Society campaign. Thanks to the generosity of its donors, the campaign raised $40,500!
Pathways would like to thank all of the generous donors who supported the inaugural Heart & Home Society. Because of you, Pathways can further enhance its services to homeless women and children.
Pathways envisions the Heart & Home Society growing into a strong alliance of caring individuals dedicated to advancing Pathways' mission of ending homelessness for women and children through hospitality, housing, and hope. We look forward to next year!