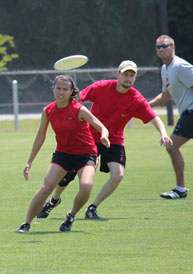 This past Saturday, May 19th, the Birmingham Ultimate Disc Association hosted the 31st Charity MudBowl benefitting Pathways at the beautiful Gardendale Soccer Complex. This year, eight teams – Mountain Brook Community Church, Robins & Morton, Southern Progress, Alabama Power, Church of the Highlands, the Hoover Playaz, Merrill Lynch, and Redeemer Community Church – competed for the coveted MudBowl Championship Title.
The weather was beautiful and competition was fierce as most games leading to the finals were won by a slim margin. In all, 120 athletes and volunteers turned out for the tournament and enjoyed live music by the Justin Archer Band, donated lunch from Chipotle Mexican Grill in Hoover, and a first-class sound system donated by BhamCru Productions. Southern Progress faced Merrill Lynch in the finals, where Merrill Lynch won the championship by one point in overtime.
This year's tournament bought in over $7,500, and over the past 31 years, more than $80,000 has been raised for Pathways at the Charity MudBowl! To find out more about next years Charity MudBowl Tournament check out www.mudbowl.org" target= "_blank">www.mudbowl.org.