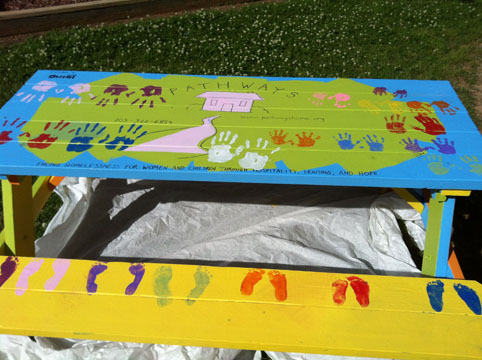 Local businesses supported the Nature Conservancy's Earth Day celebration by donating unpainted picnic tables to local nonprofits, who were then tasked with dressing them up. Pathways' would like to thank Dunn Investment Company for sponsoring our table. Thanks also to Greg Salinas for spending a Saturday morning painting our logo on the table top!
Mothers and children residing at Pathways' South Side shelter adorned the table with their beautiful hand and footprints, which transformed the table from a piece of furniture into a work of art.
We at Pathways invite all of you to treat yourselves to a day in the park in support of the Nature Conservancy of Alabama! If you are able to get a seat at our table, we'd love to have you post a picture of your picnic on our Facebook page, or you can email them to karen.griner@pathwayshome.org.
Happy Earth Day weekend!