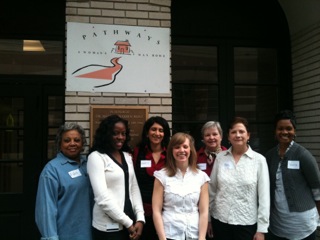 It is already several weeks into the New Year. How many of you created New Year's resolutions, but have fallen off the band wagon? On January 20, Pathways and employees from Vulcan Employee Development Association (VEDA) partnered up to host an event surrounding New Year's resolutions. The event, titled New Year, New You, taught Pathways' guests how to and achieve personal goals.
"The key to keeping their resolutions is to make a chart that clearly states what they want to do, how they can achieve their goal, when they want to have their resolution accomplished, and why they want to achieve it," said Ms. D Sterling-Penn of VEDA.
The guests worked in small groups writing down their goals, according to Ms. D's helpful tips. Afterwards, VEDA catered an awesome lunch, sat with guests in the Day Center, and enjoyed the healthy and delicious meal. It was truly a day of fun and self-reflection.
VEDA is a volunteer organization within Vulcan Materials, a local company that truly cares about our community. They are active participants in Pathways' annual Adopt-A-Family program.
The New Year, New You Event was spearheaded by Pathways Board Member and VEDA member Merry Bise. Merry exhibits a strong passion for Pathways on and off the job. While assisting Merry with planning this event I was able to call her and ask a few questions.
Pathways: What exactly led you to becoming a member of the Vulcan Employee Development Association?
MB: There are a number of things – meeting others outside of your department, development of personal and work skills, and community service is half of VEDA. Community service is dear to me.
Pathways: As we know, you are currently sitting on our board. Why did you choose to become a member of Pathways' Board?
MB: While volunteering at Taste of the Nation (a past fundraising event of Pathways') with another current board member I learned about the Taste of the Nation recipients and I learned what Pathways does from the experience and the current board member. The mission stood out.
Pathways: Describe Pathways using one word and/or sentence.
MB: Success is the word that comes to mind immediately, and hope. Helping women achieve success through instructive programs, support and hope.
Pathways: Thank you, Merry. We are truly grateful for VEDA's support!