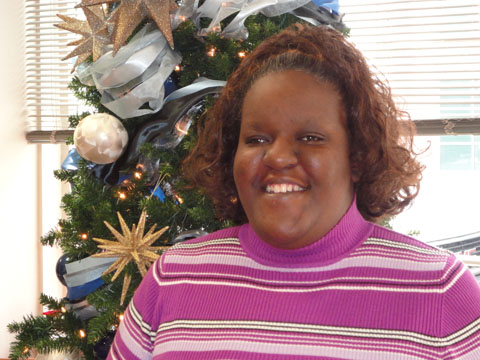 If you drove or walked by Pathways' downtown shelter on Richard Arrington, Jr. Boulevard in December, you may have noticed a beautiful Christmas tree in the lobby, decorated with blue and gold ornaments and white lights.
The tree was a gift from Energen, who received it from Children's Hospital. It was designed by the Alabama Chapter of the International Internal Design Association. Pathways would like to thank these donors for this wonderful gift.
In case you missed it, don't worry - the artificial tree will be back in the Pathways' window next holiday season.
Pathways' guests were also treated to a holiday makeover. Volunteers, led by Sukeetha Stallworth, spent two days styling the women's hair. The ladies were then invited to have their picture taken by the tree and given a copy to send to relatives.
Janis Evans, Pathways' Volunteer Coordinator, reported that the women really enjoyed getting made over.
"There were lots of hugs and thank yous," she said. "We may do this annually."
Karen Griner is the Development Director at Pathways.