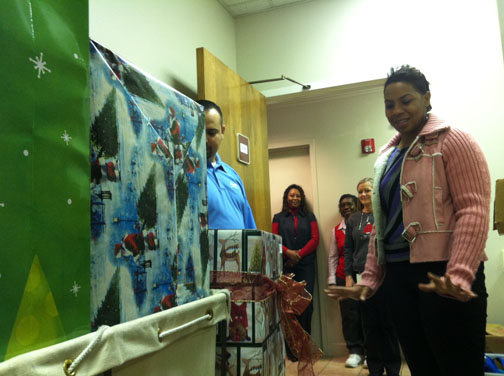 When Joshlyn stepped inside a closet at Pathways, she was moved by tears by what she saw: A pile of presents stacked up as high as her chin, all for her five children.
"I didn't know where was all going to come from; I just kept praying," she said, describing her worries of how she was going to provide Christmas gifts for her 15-year-old twin sons, 11- and 13-year-old sons, and a 7-year-old daughter. "I can't find the words."
Employees of the engineering department of El Paso Corporation, a company that has strongly supported Pathways over the years, got together this year to adopt a Pathways family. They heard about the program through Pathways' website, contacted the agency, and were given a wish list for Joshlyn and her family. Together, they were able to purchase everything on that list, said Tony Garcia, an El Paso employee.
In addition, El Paso's IT department built a computer for Joshlyn, who is currently studying radiology at Jefferson State Community College. She said the computer will be invaluable in helping her complete her schoolwork.
El Paso also donated $5,000 to Pathways to support its services, which include providing transitional housing, life skills classes, and a day center, where homeless women and children can receive shelter, a hot meal and clothing seven days a week.
This year, with the generous support of individuals and corporate donors such as El Paso, Vulcan Materials, and UBS Financial, Pathways was able to provide gifts for all of the families who had stayed at its shelters this year as well as purchase most items on the wish lists of its single women residents. Donations were also compiled into gift bags for visitors to the Day Center.
El Paso employees wanted to meet the family they adopted, so on Friday, a group came to Pathways to personally present Joshlyn with the gifts. In between several tears and even more hugs, the group helped her fill two vehicles with presents.
"It was a challenge and it was a lot of work," El Paso employee Tommie Hill said. "But it was very rewarding."