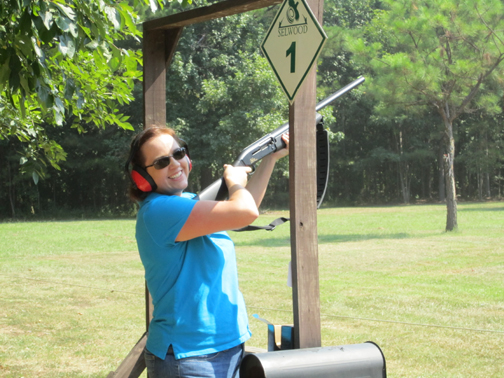 Five dozen sportsmen and women took aim at homelessness last week by participating in Pathways' 13th annual Sporting Clays event.
The annual event is Pathways' largest fundraiser, netting approximately $30,000 a year in support of programs that help homeless women and children.
Sporting Clays is a sport where participants shoot at flying targets, known as clay pigeons or clay targets, with a shotgun. Points are awarded for every target hit, and each team and individual compete for the highest score.
"It's a unique way for people to have some fun while still giving back in their own way and supporting a cause that continues to be an issue," said Greg King, Vice President of Marketing for Iberia Bank and chair of the event. "To the extent that we can chip away at homelessness and solve the issue, it makes the community a better place."
Fifteen four-person teams gathered at Selwood Farm in Alpine the morning of August 26 and enjoyed a warm breakfast, sponsored by Dunn Investment Company, before heading out into the woods for a fun morning of competition. Afterward, they unwound on the porch of Selwood's lodge, overlooking a beautiful view, while feasting on a catfish lunch provided by CEMEX and waiting for the scores to be tallied. Birmingham Coca-Cola Bottling Company generously provided refreshments.
IberiaBank and National Cement were Major Sponsors of the event. Their teams went head-to-head with teams sponsored by Alabama Power, Altec, BBVA Compass, Bradley Arant Boult Cummings, CMH Architects, Energen, Gray Construction, J.H. Berry & Gilbert, Kenworth of Birmingham, Kirkpatrick Concrete, One Stop Environmental, and Rives Construction Company.
In the end, National Cement proved to be the champions with a score of 368. Alabama Power came in second with 315 points. The top two shooters, members of the National Cement and Kirkpatrick Concrete teams, shot 96 and 93 points, respectively.
In addition to the companies who sponsored teams, food and beverages, Pathways is also extremely grateful for the the support of EBSCO, Warren Averett Kimbrough & Marino, Brasfield & Gorrie, Massey Hauling Company, Regions and Vulcan Materials. Thanks as well to the Junior League of Birmingham for sending a member of its Corps of Volunteers to assist with the event, and to the individual volunteers and staff who came out to Selwood to help make the event a success!
Last but not least, Pathways would like to thank the Sporting Clays committee for all of their hard work and dedication: Greg King, Stewart Cox, Bart Moore, Randi Rhone and Robert Robertson. You all make a difference in the lives of homeless women and children!
Karen Griner is the Development Director at Pathways.