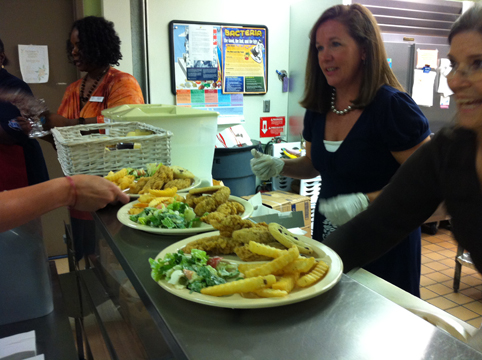 During the weekday, between 11am and 1pm, downtown Birmingham becomes exceptionally busy. The local eateries are all filled with hungry workers. These workers take pride in the "lunch hour."
However, in downtown Birmingham, you will find many homeless women heading toward Pathways' Day Center.
Every day, 365 days of the year, homeless women and children staying at First Light, Salvation Army, the YWCA, Pathways and the streets head to Pathways' Day Center for their "lunch hour". These women all gather in the Day Center and enjoy a hot meal. These meals are sometimes prepared by our talented onsite cook, but every second Friday of the month, Vestavia Hills United Methodist Church generously caters the meal.
On August 5, we interviewed two volunteers from Vestavia Hills United Methodist Church as they prepared to serve the "lunch hour" meal. These volunteers were Cindy Rayburn, Pathways' 2011 Board President, and Linda Stone.
Q: How long have you been serving the Noonday meal?
A: 1 year and about 6 months or so!
Q: Why did you choose to serve the noonday meal at Pathways?
A: The church – Vestavia Hills United Methodist Church (VHUMC) – has always had a need for feeding those in need. The first year that VHUMC started preparing and serving the noonday meal at Pathways the church's chef prepared all of the meals. Lately, due to changes in the chef's schedule, VHUMC chooses to have the meal catered. Vestavia Hills United Methodist Church felt that this would be a great way to spread information about their church as well as Pathways.
Q: Many volunteers often state they have learned a lot during their time at Pathways. Can you describe one experience that you will always treasure about your time at Pathways?
A: Homeless women are just like you. They are very relatable because all of the individuals are diverse and each woman could represent you.
Q: How would you encourage others to volunteer at Pathways?
A: Volunteering at Pathways is fulfilling. It is fulfilling because you get to see who you are helping. Especially with the economic crisis causing people who would otherwise not be in this situation to become homeless.
Pathways is very grateful to have Vestavia Hills United Methodist Church prepare and serve the "lunch hour" meal to our guests. If you or an organization that you represent would like to assist with the preparing and serving of a meal at Pathways, you may contact Janis Evans, Pathways' Volunteer Coordinator, at janis@pathwayshome.org or (205) 322-6854.
Janis Evans is the Volunteer Coordinator and Development Assistant at Pathways.