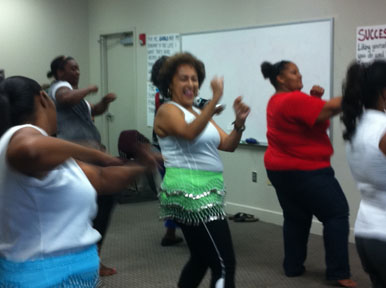 Each Friday since July 22, about a dozen or so homeless women who are staying at First Light, Salvation Army, the YWCA, and Pathways have come to dance and get fit during a 1-hour Zumba fitness class now being offered at Pathways' Day Center on Richard Arrington, Jr. Blvd. N.
The idea of starting a Zumba class at Pathways came from Nena Moorer, a first-year board member of Pathways. Nena is a certified Zumba instructor and teaches the class to guests alongside fellow Zumba enthusiasts, Zay Allen and Valerie Green.
"This is my way of giving back," Nena said. "It has just been uplifting to see the smiles on the ladies' faces."
Nena was on a dance team in high school and in recent years has run 5Ks for local charities. But she missed dancing.
"It's been spiritual and fun fo
r me, and I've made lots of friends," Nena said as a Pathways guest came up to her and gave her a hug.
Nena, Zay, and Valerie have lost a combined total of 150 pounds through Zumba, and they hope to pass the health benefits onto Day Center guests.
Zay, who is a pastor's wife, is accustomed to helping people work on their spiritual side. "With Zumba, you work the spirit
ual side and the physical side together," making the body complete, she said.
Karen Griner is Pathways' Development Director. She can be reached at karen.griner@pathwayshome.org