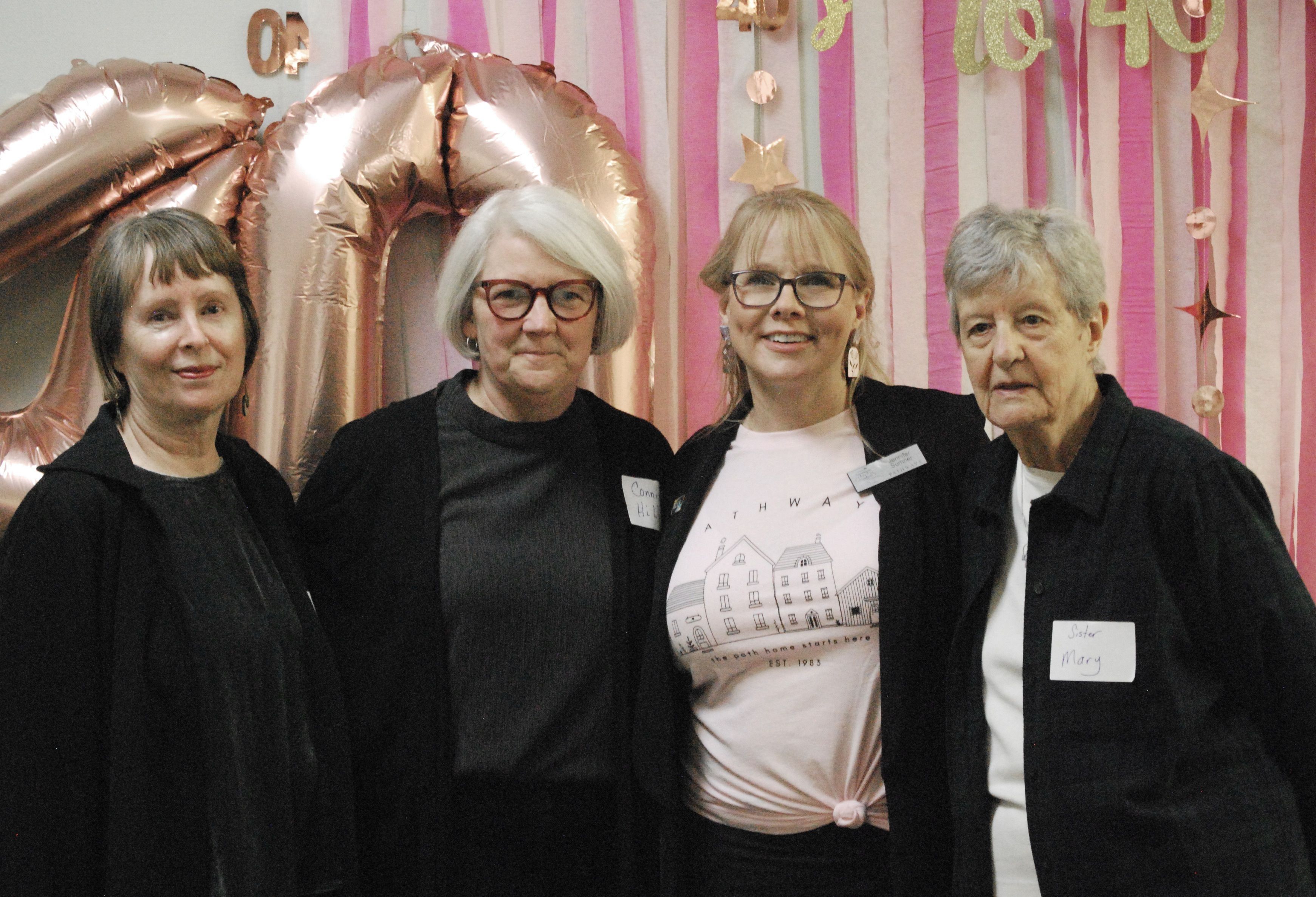 Today is International Women's Day
Today and every day, Pathways is empowering women on their path out of homelessness through hospitality, housing, and hope.
In honor of Women's History month, we are celebrating the strong women who have led Pathways through 40 years of services to women and children experiencing homelessness.
At our 40th Anniversary Open House, we were thrilled to welcome three of our former Executive Directors back to Pathways. Their joyful reunions with former staff and clients were the sweetest moments of the night, and hearing their wisdom and stories from our past was truly inspiring for everyone present.
Sharon Fenstermaker served as Executive Director of Bread and Roses Hospitality House from 1991-2001. She shared, "The thing that really drew me to Bread and Roses was the emphasis the agency put on ensuring that services were provided in a manner that helped restore dignity and helped women and children acquire hope,"
Sister Mary Robert Oliver is a Benedictine nun who served as Executive Director of Birmingham Partnership Assistance to the Homeless (PATH) from 1996-2002. Before becoming Executive Director, Sister Mary served as a case manager at both Firehouse Shelter and Birmingham PATH. She was a part of the initial group of individuals who came together in 1982 after 2 unhoused citizens froze to death, alerting the city to the need for homeless services. Along with others in the faith community, Sister Mary helped to form the first emergency shelter services in Birmingham.
In 2001, Sharon and Sister Mary, along with the boards from each of their organizations, came together to discuss merging the agencies to better serve women and children experiencing homelessness. With both Sharon and Sister Mary planning to retire, Connie Hill was chosen to take over as Executive Director of the merged organization, which would be called Pathways.
Connie served as Executive Director of Pathways from 2003-2010, during which time she opened the Safe Haven program and continued to grow the Day Center and transitional shelter programs. Today, Connie continues to empower women and girls through her work as Executive Director of Girls Inc.
Pathways would not exist without the transformative and inspirational leadership of these strong women, and we are thrilled to honor them on this International Women's Day.