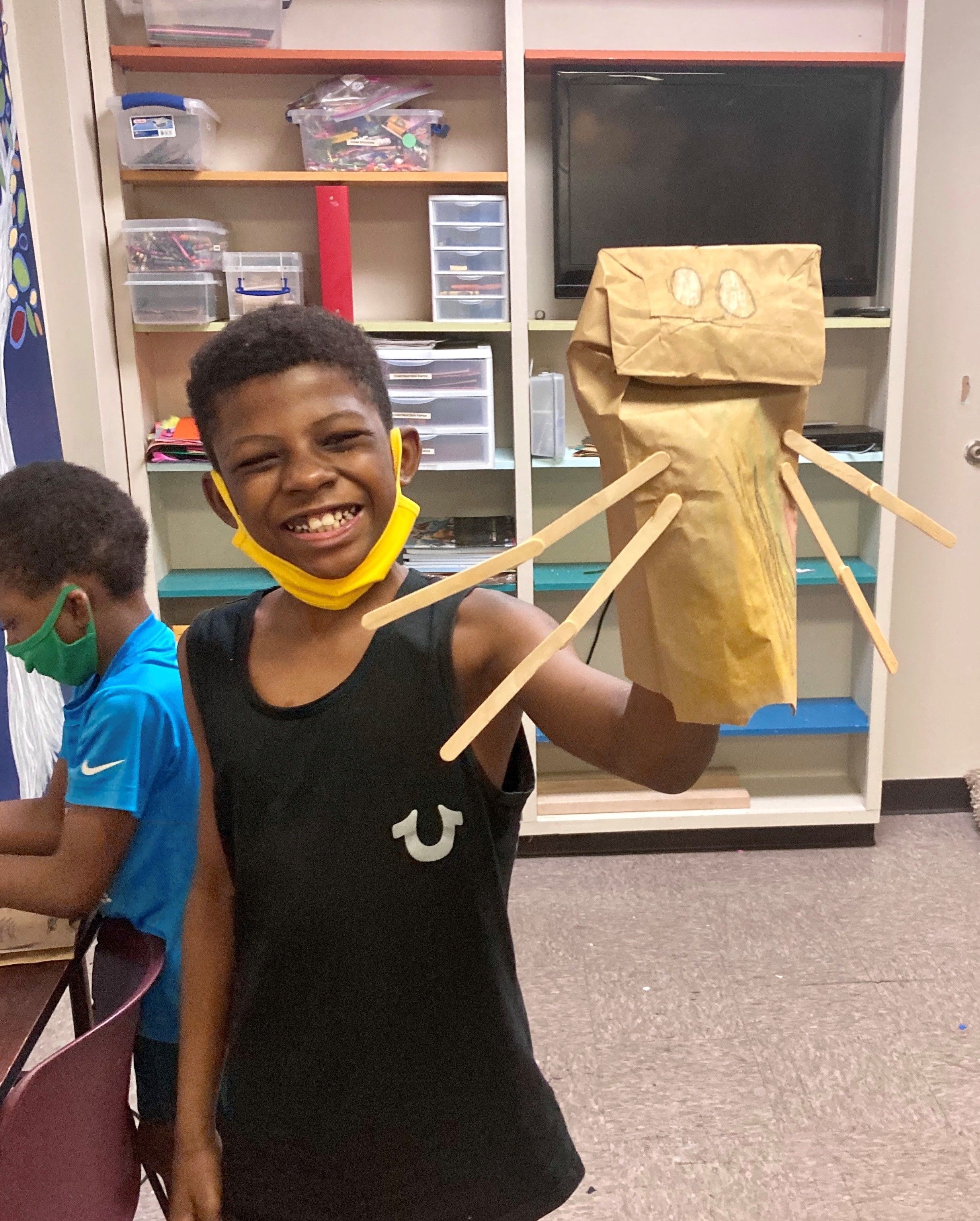 The Stepping Stones bedrooms grew empty and quiet as summer came to an end and many clients found permanent housing, but as September began, the shelter slowly filled with the sounds of children once more. Women and children experiencing homelessness in Birmingham must now spend two weeks in a quarantine shelter before being placed in a shelter program like Stepping Stones in order to protect other clients from the virus.
By the times school started, 2 new families had completed this quarantine period and entered Stepping Stones. The new arrivals had a total of nine children, including 7 elementary-age students. Because Birmingham City Schools went completely virtual for the start of the 2020 school year, the kids in Stepping Stones were enrolled in online classes. The Pathways staff soon realized that providing laptops wouldn't be enough to keep so many energetic kids engaged and focused on e-learning.
Shanika Grimes, former Pathways Volunteer Coordinator, rejoined the team as a virtual school tutor, and staff created a bright and cheerful classroom in a Day Center space that isn't being used due to the pandemic. Now, the kids staying at Pathways have a place to "go to school" each morning and a welcoming tutor to keep them on task and help them figure out everything from websites and Zoom log-ins to math problems and spelling words.
Titus, a third grade student, admits that he would rather be in his real classroom than doing virtual school, but he says online classes have been better since Ms. Shanika started tutoring. Plus, he has enjoyed getting to wear whatever he wants, such as sweatpants and slides. The 11am lunch break for the online school day comes earlier than in real school, and Titus says he has fun during the long break between classes. Pathways' Dietary Manager delivers lunches to the kids' classroom each day. Philly Cheese Steaks with barbecue sauce were Titus's favorite meal so far.
Titus has been staying with his mother and siblings in Stepping Stones since the end of September. At nine years old, he is the second oldest of his siblings, and his favorite school subject is math. Bright, outgoing, and full of energy, Titus eagerly pointed out the daily schedule written on the whiteboard in the Pathways classroom and showed the craft project he had created the day before, a puppet made from a brown paper bag with four spider-like popsicle stick legs and a mouth and eyes drawn on in colorful marker. Titus came up with the idea for that craft project when he saw paper bags among the art supplies stacked on the shelf in the classroom, and Ms. Shanika helped the students create the puppets during their lunch break.
As a former substitute teacher, Shanika has experience with teaching classrooms of rowdy or reluctant students, and she says that the virtual classroom hasn't been that different: "A normal day for the online students here at Pathways is very similar to a normal day at school. They come into the classroom with their school supplies and book bags ready to go. They begin class promptly at 8 am each day. The students are given breaks, PE time, and crafting time each day. I like to give them time to have a little fun and play at the end of the day when school is over. They love it!"
However, as any parent of a virtual student will attest, online school is not without its challenges. Shanika explains, "One of the biggest challenges that we all face whether it's as the student, teacher, or parent is staying connected. The internet has allowed us to stay safe and learn, but it can sometimes present us with challenges that are unavoidable. This can be quite frustrating at times, but we make it work."
Overall, the kids staying at Pathways are a happy, friendly bunch, and their tutor and mothers are working hard to make sure they stay caught up on their schoolwork so they can be ready to rejoin their peers in class when school gets back to normal.
Pathways staff are enjoying this unusual time in the life of our shelter as we get to spend time with these younger residents who would normally be out of our building for most of the day. As Shanika concludes, "The best part about tutoring is definitely coming in each day to seeing those smiling and sometimes sleepy faces. They love learning and they love doing it together. I think this time is very valuable because it brings everyone together in a unique way."
Interested in helping our online students? Click here to purchase headphones for a virtual student through our Amazon Wish List.