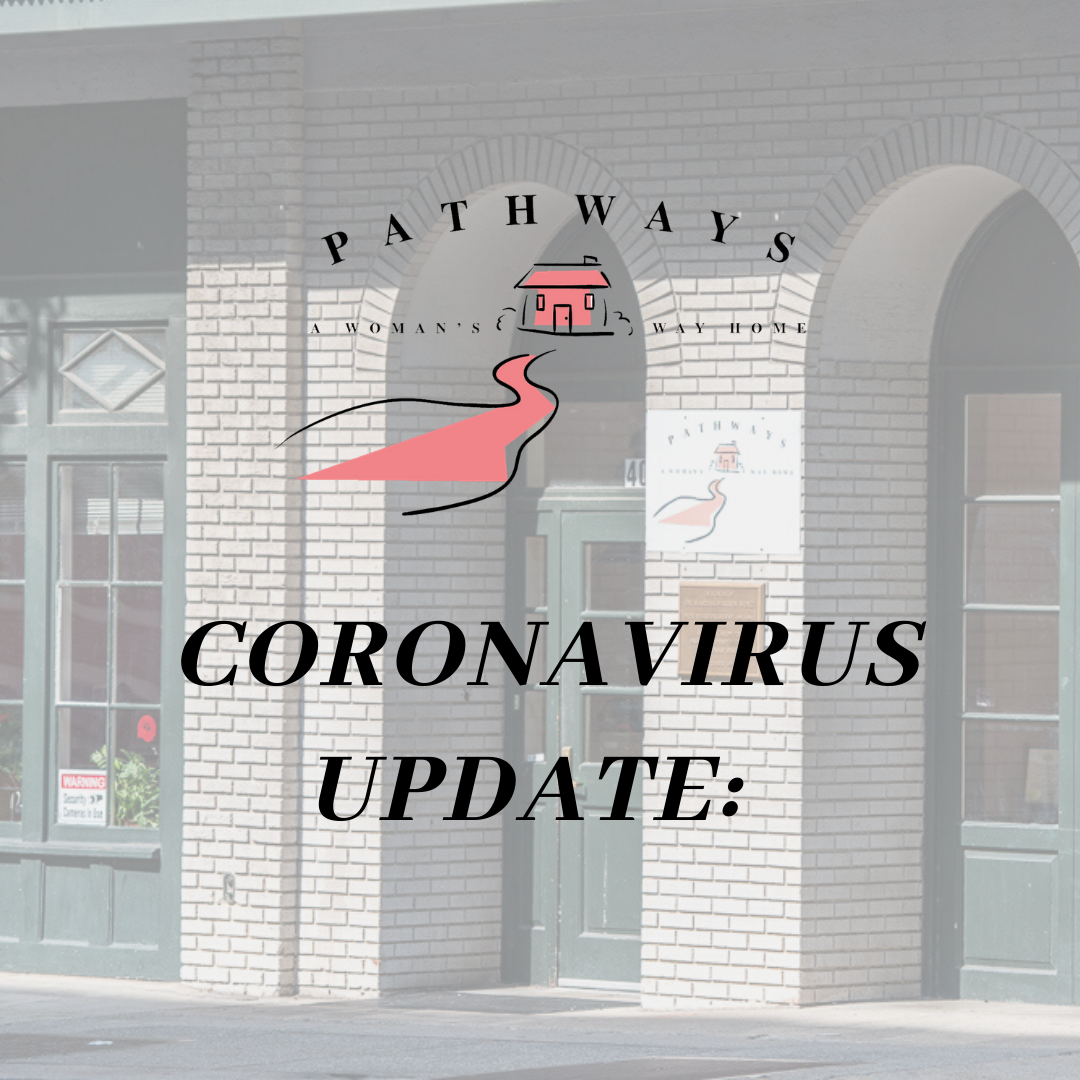 A Message from Pathways' Executive Director:
In this exceptional time, Pathways is grateful for the outpouring of concern and support from generous members of our community. Many of you have reached out to ask how you can best help people experiencing homelessness during the COVID-19 outbreak. Below you will find an update on Pathways' response to the virus, including the policies we have put in place in order to protect vulnerable residents in our shelter and ways that you can support Pathways and other local shelters.
Pathways staff and residents are working together to get through this situation as a team and family. We are collaborating closely with One Roof and other Birmingham homeless service providers in order to continue to provide resources and support to people experiencing homelessness despite changes to our normal routine.
Our COVID-19 Program Operations:
In order to limit exposure to the virus, Pathways has cancelled all volunteer activities and reduced the number of staff in the building. Pathways is also not accepting in kind donations during this time from the public at our location. These decisions have been made out of an abundance of caution to reduce the number of people staff and residents come into contact with.
To reduce the spread of the virus between shelters and those we serve, Pathways Day Center is temporarily closed.
Childcare centers in our area have been ordered to close. This means the opening of Pathways Early Learning Center, tentatively scheduled for April 1, will now be delayed as we wait to see when childcare programs are able to reopen. 
Staff are continuing to provide meals and services to the residents in our shelter programs, encouraging social distancing, and thoroughly cleaning all common areas each day. Our top priority is to keep everyone safe and healthy, and we are closely monitoring the health of each employee, woman, and child in our programs.
How You Can Help:
Where to Take In-Kind / Food Donations:
We do not anticipate having difficulty in providing food to our residents and are not seeking food donations at this time. While our pantry is full, we urge you to donate to shelters whose pantry is not. Pathways believes in sharing resources, and we encourage our volunteers and supporters to reach out to our neighboring shelters who are struggling more than us to provide food to their people.
Many local shelters will be in desperate need of extra prepackaged meals and nonperishable food items in order to feed their clients. Some of these shelters typically have their meals brought in by volunteers who are now staying home. First Light and Salvation Army normally send their clients to our Day Center for lunch and must also find food for an additional meal with the closure of Day Center. Firehouse, Brother Bryan, and others need assistance providing meals as well. Pathways encourages those who would like to help to contact these shelters directly and inquire about how to safely coordinate the delivery of meals or items.
Should Pathways run low on anything, we will reach out and it can then be our turn again. Let us support these programs and pool our resources to help where the need is greatest.
Support Pathways Online:
So how can you support Pathways right now? Here are 3 ways that you can help us from the comfort of your own home:
We continue to look forward to the future opening of Pathways Early Learning Center. We hope to be ready to open as soon as possible once we can return to normal operations, but there are still a number of items on our Amazon Wish List that we will need to have. Check it out here.
Follow us on social media (@pathwayshome), subscribe to our email list through our website, and keep up with us right here on the blog! If you are already a follower, consider sharing our posts and messages with friends! We are always looking to build our online community, and now more than ever, we appreciate your engagement.
To meet our biggest needs, we encourage you to make a monetary donation.
Thank you,
Carrie Leland