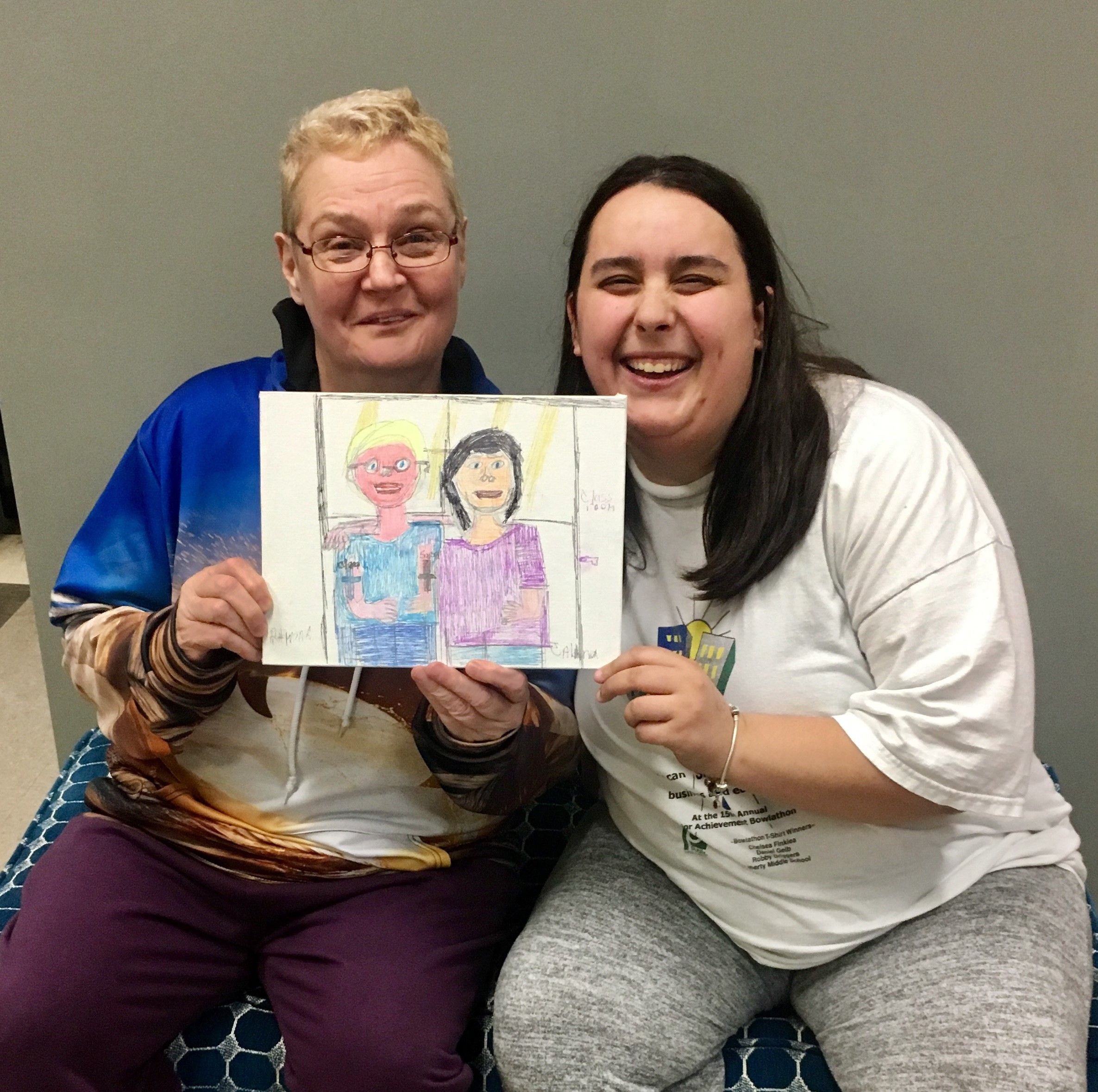 Safety, stability, and community – for two residents of Pathways' Safe Haven shelter program, these were once unfamiliar feelings.
Today, they share the remarkable story of how each of their paths out of homelessness led to a new life at Pathways – and lifelong friendship.
Safe Haven's Most Loyal Resident
For the past thirteen years, Ramona has kept the same room as a resident of Pathways' permanent, supportive housing program, Safe Haven.
Today, she is proud to say that she has lived at Pathways longer than anyone else: "It's been awesome. I love living in Safe Haven. It gives you more independence, and you have your own room. There's Bingo on Thursday nights. This is a wonderful place."
About Safe Haven
Pathways' Safe Haven opened in 2006 as the first program of its kind in Alabama. It is a residential program in the Pathways building for women with mental illness. To become a resident of Safe Haven, a woman must have experienced "chronic homelessness," and be diagnosed by a doctor with a serious mental illness. Safe Haven has ten bedrooms, and it is always filled to capacity. Residents are welcome to stay in the program indefinitely, but in its stable environment, many become independent enough to move to their own homes.
Ramona's Story
Ramona came to Safe Haven in January 2008, after experiencing several years of homelessness in the Birmingham area.
A native of Gary, Indiana, Ramona remembers that she once had her own affordable apartment, where rent was only $182/month. In 1983, she gave it up to care for her sick grandmother. When her grandmother passed away in 1994, she says her aunts kicked her out into the street. That was her first experience of homelessness:
"That was when I came here to Alabama where my mom and my brother were. They had a 3 bedroom, single-wide trailer, and we moved it to Pell City. We were trying to get my brother away from the drugs. We got the trailer in '95, and we lost it in 2004. The bank foreclosed on the trailer and we had to leave. After they took our home, we were living in the car. Then, we moved out of my mom's car and moved in with my mom's brother and his wife. But that didn't work out either."
Ramona's mother didn't have the resources to cope with Ramona's mental health struggles or her brother's addiction. Ramona and her mother ended up at First Light, where a social worker helped Ramona find a place in Pathways' newly-opened Safe Haven program.
With the support of Safe Haven's homelike environment and caring staff, Ramona gained the resources to embrace her two passions: art and dolphins. Her dolphin collection fills her bedroom, and her beautiful paintings of people, places, and of course, dolphins, can be found all over the Pathways building.
But for Ramona, the best part about Safe Haven is people like her friend Calina, who moved into Safe Haven three years ago after a similar loss of family relationships.
Calina's Story
Growing up, Calina says her parents were abusive towards her and her older sister. When the girls were teenagers, they moved out of the house as fast as they could. Her sister eventually moved all the way to Montana, and the two lost touch.
Because of Calina's special needs and learning disabilities, she wasn't able to live on her own after her sister left town. Several families from her church took turns caring for her, but eventually she found herself moving from shelter to shelter: "It was a really hard life - so many families and different shelters. I finally got into the Arc of Shelby County, and they gave me a lot of different activities to do with people that are like me with special needs."
Calina began working as a cashier at Publix, which she describes as "my dream job." When she moved into Safe Haven in 2017, she transferred to the new downtown Publix. Her cheerful, friendly personality makes her a great fit: "I just like the customer service and the people there, they're so nice. And I love food. I like to be around food." In addition to working at Publix, Calina says she enjoys singing and hanging out with the other Safe Haven ladies, like Ramona.
Unlikely Friends
Despite an almost thirty-year age gap, spunky, 24- year-old Calina instantly became Ramona's friend. Three years later, the two are amazed to think that if it weren't for Safe Haven, they never would have met.
Calina says Ramona has become like a mother to her, and she knows she can always go to her for help. For a long time, she didn't have relationships like that to depend on.
Calina is Ramona's biggest encourager, always reminding her of her talent as an artist and pushing her to pursue her dreams. The two enjoy hanging out together in the Safe Haven living room and participating in Pathways activities, like Bingo and arts and crafts. Ramona even painted a portrait of the two friends standing side by side (pictured at top of page).
Calina's New Adventure
Soon, though, the two unlikely friends will be separated – Calina is moving out of Safe Haven at the end of February.
About a year ago, Calina reconnected with her older sister for the first time in years: "She wished me a happy birthday, we started talking, and all of a sudden we just clicked. She said she wanted me to come see her, we got a plane ticket, and everything was set."
Calina visited her sister in Montana this past Christmas, and she loved it there. When her sister invited her to move up to Montana permanently, she immediately said yes.
Calina says that she will miss everything about Birmingham, but especially Publix, which they don't have in Montana, and her friends at Pathways. Calina and Ramona plan to keep in touch through Facetime, though. Calina says they will probably talk every day.
All information and images in this story are used with permission of Ramona and Calina and taken directly from interviews with each of them. If you are interested in getting to know women at Safe Haven and other Pathways shelter programs, please check out our volunteer opportunities.