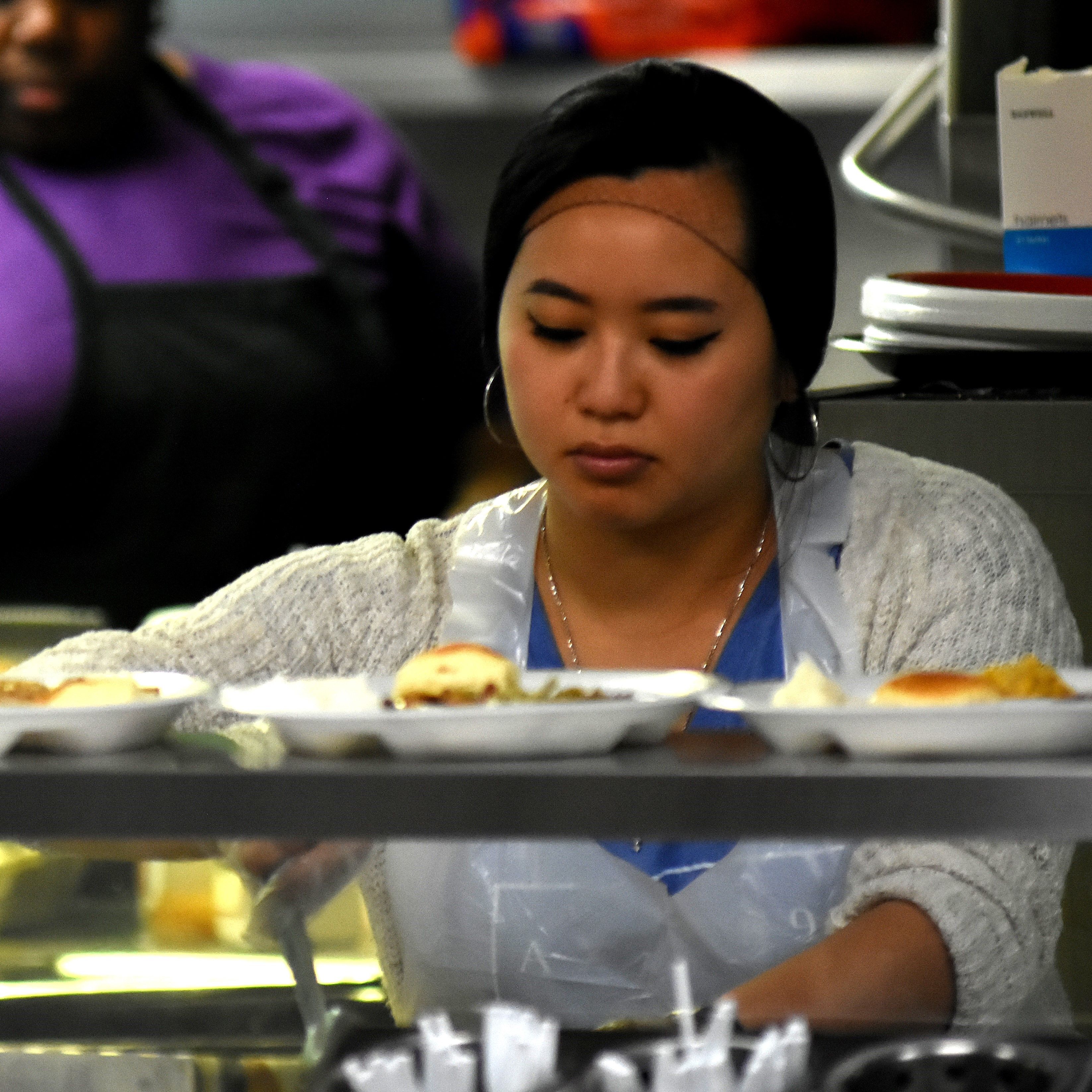 Signing up for a new volunteer opportunity can be intimidating - but fear not! We have the answers to all your questions about what it's like to get involved as a Pathways volunteer. Here is a collection of our most frequently asked questions about our volunteer opportunities and sign-up process to give you a better idea of what to expect when you first get involved.
General Questions:
---
What opportunities are there for volunteering?
Pathways has two main volunteer opportunities: serving meals and assisting in our clothes closet. 
How do I sign up to volunteer for the first time?
If you haven't volunteered before, or if you haven't come in several years, your first step will be to contact Pathways staff to set up a volunteer orientation.
There are 3 easy ways to reach out to us about volunteering:
Fill out the volunteer interest form on our website
Call us at 205-322-6854
Email our volunteer coordinator, Shanika, at volunteer@pathwayshome.org.
Can men volunteer?
Yes, absolutely! Although we do not serve men in our programs, we DO welcome male volunteers!
Do I have to go to a volunteer orientation?
Yes, we ask all new volunteers to attend a quick orientation meeting at Pathways before we send you the calendar to sign up for volunteer shifts. This brief training is actually really important; it helps you understand what to expect when you volunteer, and it gives you a chance to fill out a few info and release forms we need to have on file for active volunteers.
*The one exception to this rule is for group members volunteering through an organization, church, or corporate partnership. 
What is volunteer orientation like?
Volunteer orientation takes place at Pathways with our wonderful volunteer coordinator, Shanika. She'll give you a short overview of Pathways' history, mission, programs, and guidelines for volunteers. Volunteer orientations typically last about 30 minutes and end with a tour of the building so you can see where you will be working.
How often do you have volunteer orientation?
We offer volunteer orientations on a weekly basis. Email volunteer@pathwayshome.org to request an orientation.
What should I wear to volunteer?
Casual, comfortable clothes are great! We don't have any specific rules for volunteer attire, so however you feel most comfortable is fine with us.
Can I bring my children? How old do kids need to be to serve?
Due to certain grant restrictions, all Pathways volunteers must be at least 14 years old, and volunteers between the ages of 14-17 must be accompanied by an adult guardian or chaperone. Teens older than 14 who wish to volunteer are welcome to attend an orientation and sign up on our calendar along with their parent or chaperone.
Where can I park?
Since we are located downtown, Pathways does not have its own parking lot. Your best bet is to search for a metered spot along the street or a nearby paid parking lot. We recommend arriving a few minutes early to give yourself time to find a place to park. (If volunteering to serve dinner, you don't need to worry about paying the meter – they stop checking them after 5!)
How do I check in when I get to Pathways?
When you approach the main door of our building, a staff member at the front desk will let you in. Let the person at the front desk know that you are a volunteer, and she will give you the volunteer binder to sign in for your shift and a volunteer name tag to wear while serving. If it's your first time, a staff member will be available to help you from there!
I just got here and all I see is a locked brown door. Am I at the right place?
Alas, no. You have made the common mistake of going to 409 Richard Arrington Jr. Blvd. South instead of our location at 409 Richard Arrington Jr. Blvd. North. But don't worry, you're only about 5 minutes down the street!  
How do I sign up for shifts?
Once you have attended an orientation, Shanika will email you a link to our SignUp Genius volunteer calendar for the current month. At the end of each month, she emails the calendar for the upcoming month to all active volunteers. On the calendar, you can see what shifts are available and sign up.
What should I do if I'm going to be late or miss my shift?
If you know you can't make it or will be running late, please email volunteer@pathwayshome.org or call us at 205-322-6854 to let us know.
---
Serving in the Kitchen:
---
Will I be cooking the food?
Our Dietary Manager will plan the menu for the day and prepare the food. There may be a few simple food prep tasks that you assist with before serving, but for the most part you will just be making plates for the guests.
Can I provide the meal?
Yes! Although it's certainly not required, we love when volunteers arrange to bring the meal for the day! Bringing a pre-prepared or catered meal with you to serve is always an option, and we encourage volunteers who bring a group of friends to work together ahead of time to prepare and bring a meal. For lunch, you should bring enough food to feed 75 people. For dinner, you will need enough to feed 30 people.
*If you decide to bring food, you do need to let us know at least a week ahead of time by calling or noting on the "comments" section of the shift you sign-up for online.
How many people will I be serving?
We serve between 50-80 women and children at lunchtime on a typical weekday, and 20-30 of our residents each night at dinner. Weekend lunches typically serve a smaller crowd, between 30-50 people.
What time do I arrive to serve lunch?
We begin serving lunch at 11:30, so we ask that volunteers arrive by 11:15. This gives you time to sign in, wash your hands, and get set up. If providing the food, you are welcome to arrive as early as 10:45 and use our steam table to heat up the meal.
What time do I arrive to serve dinner?
We begin serving dinner at 5:30, so we ask that volunteers arrive by 5:15. This gives you time to sign in, wash your hands, and get set up. If providing the food, you are welcome to arrive as early as 4:45 and use our steam table to heat up the meal.
How many volunteers are needed to serve a meal?
We offer 2 volunteer spots per lunch meal and 1 per dinner meal for individual volunteers. Although this may seem like a small number, our kitchen facility is not large, and there are usually enough tasks for about 2-3 people to keep busy the whole time. For this reason, we prefer that you do not bring an extra friend or family member to your shift without letting us know ahead of time!
When groups of friends, churches, and organizations come to serve together, we allow larger numbers of kitchen volunteers. However, volunteers in larger groups should expect some people to be greeters or to take turns serving. For this reason, we recommend that larger groups prepare the meal together before coming to Pathways, so that more members get a chance to be actively involved. 
Will I be able to eat after I'm done serving?
If there is enough food left over and time before the kitchen closes, we welcome you to sit and eat with the women after you finish serving. You are more likely to be able to eat with the women at dinner than at lunch, as it is a smaller group and serving takes less time.
---
Serving in the Clothes Closet:
---
What is a typical Clothes Closet shift like?
As a Clothes Closet volunteer, you will work alongside a Pathways staff member to assist homeless women in finding clothing items that meet their needs. Our Clothes Closet stocks underwear, pants, shirts, jackets, dresses, skirts, bags, blankets, and more. Women arrive with referrals from their case workers and get to select up to 4 items. If new inventory arrives, the volunteers also help organize and hang up the new clothing.  The Clothes Closet is a unique and rewarding volunteer opportunity because you get to interact directly with individual Pathways clients and help them feel beautiful.
Why is the Clothes Closet only open 2 hours per week?
Because clients can only get a referral to our Clothes Closet once a month, 2 hours a week is enough time to see everyone. Staff members open the closet outside of the regular hours only in emergency situations.
Is this an opportunity for a group of volunteers?
No - as the name suggests, the Clothes Closet is a small space. It cannot hold more than 3 or 4 people at a time, so in order to allow our clients space to shop, we cannot have more than 1 volunteer per shift.
Can I bring some clothes with me to donate to the closet?
No - due to our limited storage space, Pathways no longer accepts clothing donations from individuals. We get the clothes for our closet through partnerships with local retail, consignment, and thrift stores. However, if you have clothes hangers or grocery sacks at home that you would like to donate to the closet, we are happy for you to bring those along!
---
Other Service Opportunities:
---
What other volunteer options are available?
Pathways also uses volunteers in our Day Center Education Program and for occasional one-time events and projects. These opportunities are less frequent, but feel free to reach out and let us know if they interest you.
Teach a Class in our Day Center:
Pathways occasionally has openings in our Day Center class schedule for new volunteers to begin teaching a class. Current volunteer classes include topics as diverse as Financial Literacy, Health and Wellness, Bible Study, Chair Yoga, and Bingo. If you are interested in teaching a class on a topic that would benefit women experiencing homelessness, please reach out for more information.
*Our class schedule may not have immediate availability, and Pathways staff reserve the right to decide whether a proposed class is beneficial to our clients.
Do you have a special skill that you want to use to help our organization? Pathways has occasional needs for volunteers with professional skills in fields such as construction/building repair, art/design, photography, or videography. If this is you, call or email to let us know!
My organization has a service day coming up. Can we send a large group to volunteer?
We love to host group service days! However, we don't always have a project available. Please reach out to us at least a week ahead of your service day to see if we can accommodate you.
*Due to the small size of most of our spaces, we are unable to accept groups of more than 20 volunteers.