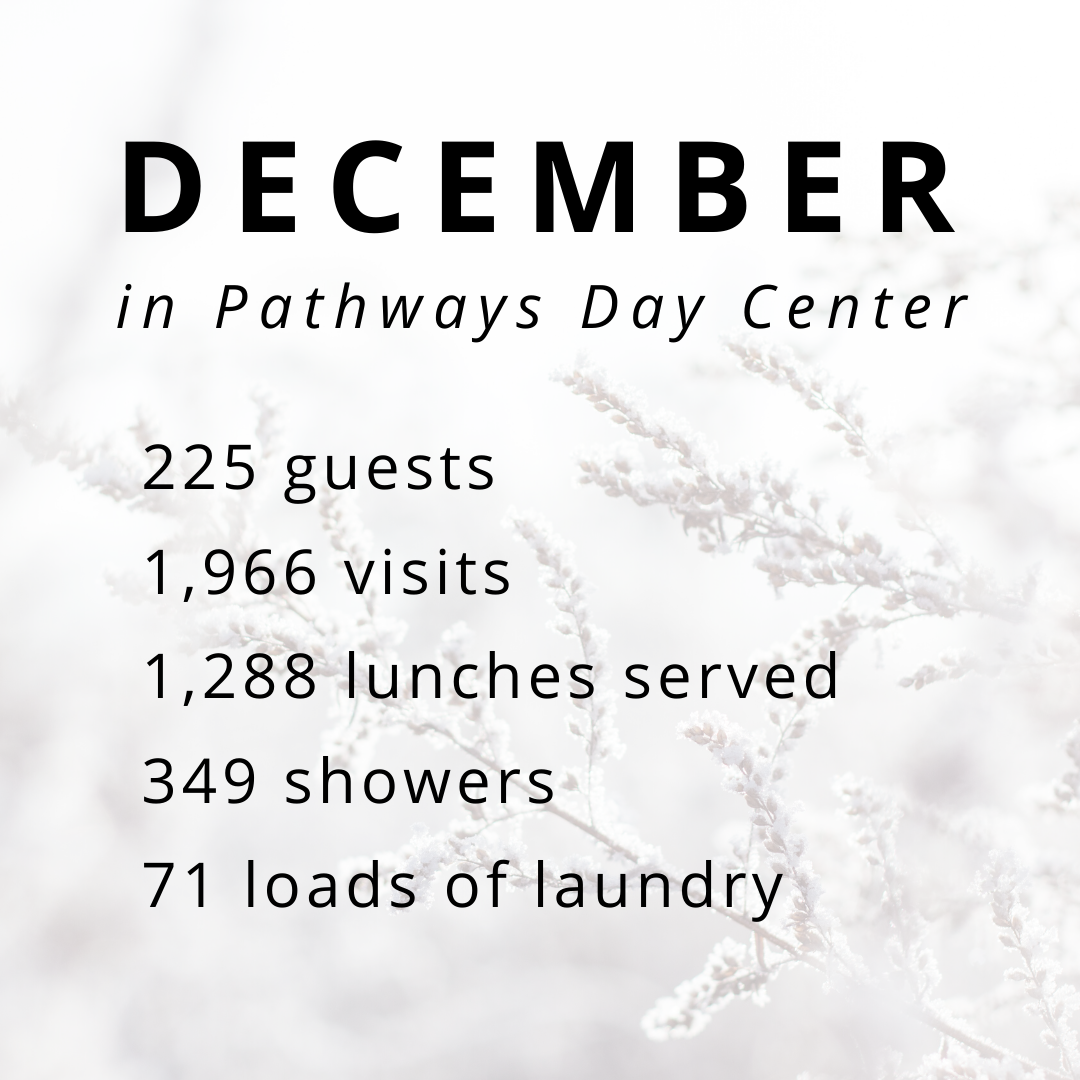 The holiday season at Pathways highlighted the generosity of the Birmingham community, as dozens of businesses, churches, and individuals came together to donate their time, money, and resources to make spirits bright for homeless women and children. We served 225 women and children in the Day Center in December, and they visited a total of 1,966 times. Here are the highlights from this month's activities!
Winter Wear Giveaways
We started the month with a winter coat giveaway on December 2, in which over 80 women and children selected a winter coat, including Day Center guests from First Light, the Salvation Army, and other area shelters, as well as Day Center clients who sleep outside or in other uninhabitable places. Women from Pathways shelter programs, Stepping Stones and Safe Haven, also received coats. We are so thankful to St. Vincent's, Hoffman Media, and the Crestwood community for holding coat drives, and for the many generous individuals who also contributed coats. For photos from the event, see our Facebook post. 
On December 13, we held a second "Winter Accessories" giveaway, in which over 60 women and children received hats, scarves, socks, and gloves. Twenty-five women who missed the first coat giveaway also received a winter coat. So many generous individuals donated winter items to our shelter this year that we still have many hats, socks, and gloves to hand out, and we have continued to supply women with these items as needed.
#GivingTuesday
On December 3, Pathways participated in #GivingTuesday, the global generosity movement which takes place each year on the Tuesday following Black Friday, as a way for shoppers to give back amidst the retail craziness of the holidays. On #GivingTuesday, we raised funds for our soon-to-open childcare center for homeless children, and many generous donors contributed to our childcare fund. (If you missed #GivingTuesday, it's not too late to contribute here!) We were even featured on the local news in honor of the day - check it out here.
New Day Center Classes
Arts & crafts class was a new option in the Day Center this month! Pathways staff members Casey and Shanika were inspired to start the weekly class after receiving a large donation of canvas shoes.  Many of the women thought the plain black, canvas shoes were too unattractive to wear, so Shanika had the idea to let guests paint them. Provided with a rainbow of paint options and Q-Tip "brushes," thirty Day Center guests expressed their creativity, designing shoes that reflect their own individual styles. They had such a great time painting that the class was scheduled again the next week, and participants created holiday cards from construction paper, sequins, and markers. Even simple art projects are a therapeutic outlet for self expression, and everyone had a great time! Check our social media pages for photos of their creations!
Day Center caseworker Karla Thomas also started a new weekly class for Day Center guests in December - Alcoholics Anonymous (AA). Although the class is especially helpful for clients struggling with alcoholism and addiction, Karla says she encourages participants to consider any aspect of their lives that could be holding them back from reaching their potential, whether the struggle is with substance abuse, or something more intangible, such as anger or self-control, and apply the AA steps to their individual situation.
Santa's Helpers Christmas Party
Thanks to our new Stepping Stones shelter program, which opened in February 2019, Pathways experienced our first holiday season with children living in the building! 
Stepping Stones currently has 5 families with a total of 14 children under age 18. The Christmas season can be a difficult time for kids experiencing homelessness, so we worked hard to make it a holiday they wouldn't want to forget! 
Our first annual "Santa's Helpers" event provided our Stepping Stones moms with a chance to "shop" for toys - 6 per child - and have them beautifully wrapped by a team of volunteers. While the mothers selected presents, their children had a blast making ornaments, eating donuts, and best of all, meeting Santa Claus himself. Click here to view photos from the event. 
(A HUGE thank you to Girlz with Vision Mentoring Group and Alabaster's Jefferson High School students and their teacher Mr. Huggins for holding toy drives and donating lots of toys for this event).
Christmas at Pathways
Many generous individuals had a hand in bringing Christmas to Pathways, from the Regions volunteers who decorated our dining room to our Executive Director Carrie's family, who spent their Christmas Eve preparing and serving a meal for Pathways guests.
Thanks to the many in-kind donations from individuals in our community, Pathways staff were able to prepare a gift bag of Christmas goodies not only for each woman who lives in our shelter programs, but also for every woman and child who visited the Day Center on Christmas Eve. Day Center guests received a blanket, new socks, snacks and candy, hand warmers, lotion, and a beauty product, while shelter residents received gifts from a wish list they gave to shelter staff.
In addition, the congregation of First United Methodist Church in downtown Birmingham gave the Pathways staff an incredible Christmas gift - they purchased every item of furniture and supplies that we will need in order to open our childcare center in 2020. We end December overjoyed by the generosity of our community.
Thank You for Supporting Pathways!
The following list of organizations provided meals, in-kind donations, and financial contributions to Pathways in the month of December:
UAB School of Public Health
First United Methodist Church
Elizabeth Perry Rushton Child Development Center
Southern Company
Girlz with Vision
Jefferson High School
Blue Cross Blue Shield of Alabama
Yieldings Clothing Co.
The Crestwood community
UAB Oncology
Sigma Beta XF Sorority, Inc.
Living Waters Ministries
Regions
UAB PA Students
House of Light Church
We are so thankful for the support of local businesses, faith organizations, and community members!