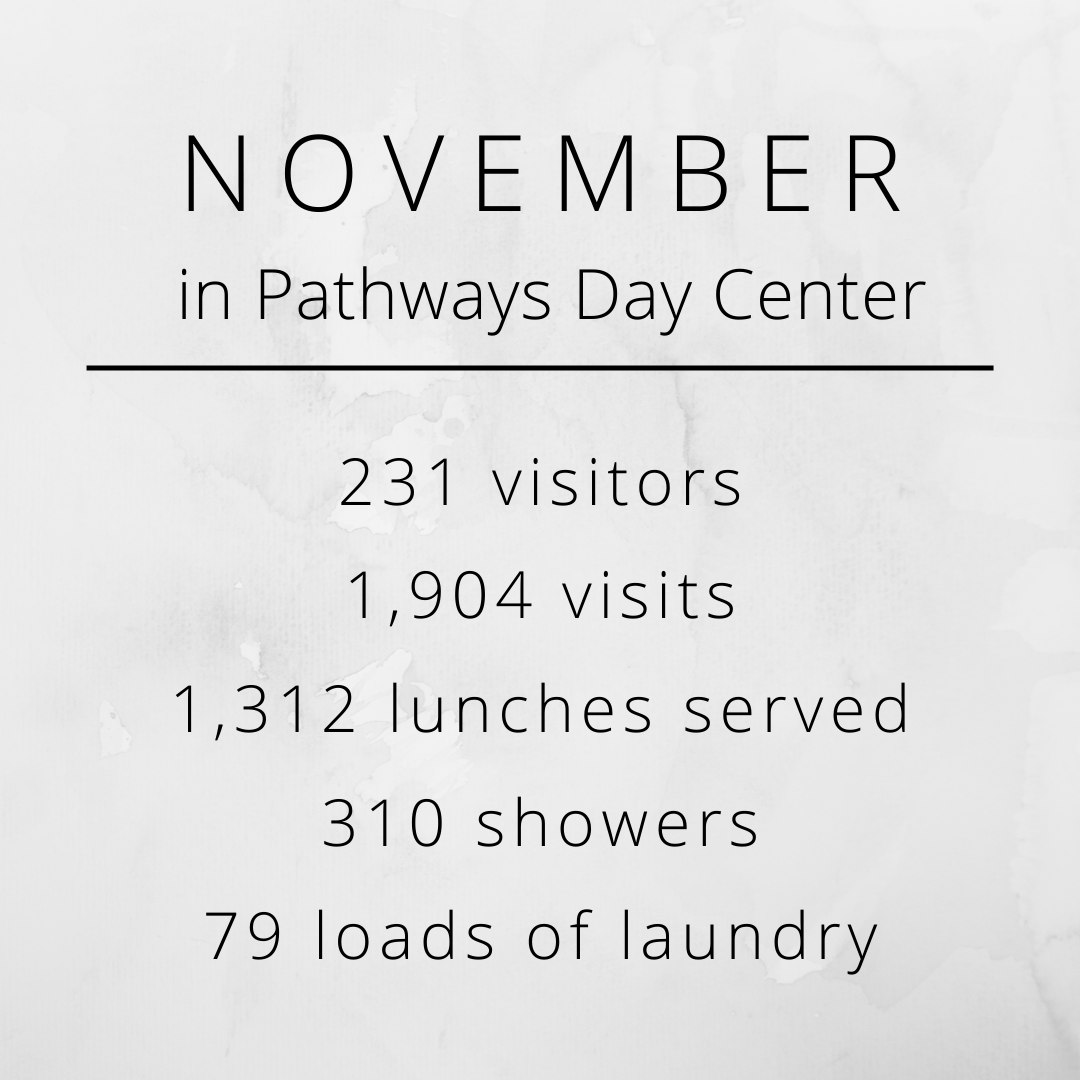 Although numbers of showers and laundry were lower for November than in the previous few months, things have not slowed down at Pathways. We served 231 women and children in the Day Center last month. They visited a total of 1,904 times and received 1,312 lunches. The holiday season is a busy and exciting time of year at our shelter, where generous members of our community have brought huge amounts of donations from our wish list.
Preparing for Winter Weather
This November saw the first freeze of the year in Birmingham, and Pathways served as a warming station for 3 nights while the temperatures were below freezing. We provided emergency shelter in our Day Center classroom for 20 women who would have slept outside. We also held a successful coat drive to bring in winter gear for the women and children we serve. Hoffman Media, St. Vincent's, and the Crestwood community contributed large numbers of coats through drives for Pathways, and many individuals also dropped off coats. We were able to provide a winter coat to over 80 women and children! 
Birmingham Businesses Support Pathways
We are so thankful for the support of many Birmingham businesses during the month of November! We received an amazing donation of canned goods from Motorola that completely restocked our pantry for winter. Southern Company provided and served a pizza lunch to all our day center guests on two different days during the month, and our regular Regions volunteers continued to serve on Wednesdays. If you are interested in getting your workplace involved at Pathways, click here for more information. 
UAB School of Public Health Partnership
The UAB School of Public Health helped prepare our guests for winter by offering a free vaccination clinic with flu, Hep A, and Tdap vaccines available. The School of Public Health also held a restaurant fundraiser for Pathways Childcare at Taco Mama and held a drive for wish list items. Our Executive Director, Carrie Leland, was featured on the School of Public Health podcast in November to talk about Pathways Childcare. (You can listen to the interview here.) The UAB School of Public Health has been one of our biggest supporters in the effort to start Pathways Childcare, and we are so grateful for their support! 
Welcome New Staff
Finally, Pathways welcomed two new staff members in November: Karla Thomas, our Day Center caseworker, and Shanika Grimes, an AmeriCorps member and our volunteer coordinator. We are so excited to have them on our team as we work to empower women and children on their path out of homelessness through hospitality, housing, and hope.